The September issue
Illustration by Josh Holinaty September was a big month for Slack, chock full of releases and debuts we've been working on for ages. Just in case you…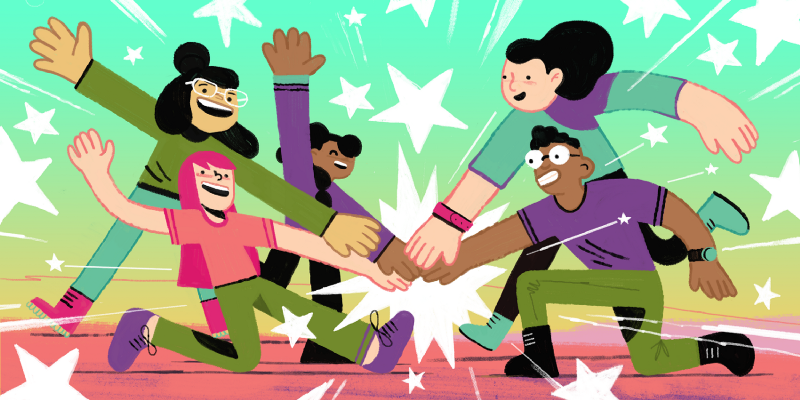 September was a big month for Slack, chock full of releases and debuts we've been working on for ages. Just in case you missed any of it, we're going to sum them up.
New product capabilities
Part one of the big news was that Slack is now available in not just English, but also French, Spanish, and German, with Japanese to follow soon. If you change your preferred language, you'll see it in the user interface and all the menus. Even the emoji names and our Help Center are completely translated.
Another big release was the beta launch of Shared Channels. This feature lets you create channels that are shared between two paid Slack teams. Use this to interact with outside agencies, consultants, and experts at other firms also using Slack. You won't have to resort to long email threads with outsiders again.
We're always sanding off the corners of Slack and this month was no different. We launched the ability to create a forwarding address that sends any email into your Slack workspace, ready to share in channels as needed. Got a lead on a new customer that emailed a question? Send it into Slack and have a discussion in relevant channels before assigning someone to follow up. We also added the ability to change your display name in Slack and polished up the channel information views.
A new frontier
At Slack's first user conference, Frontiers, we announced a new partnership and integration with ServiceNow, gave updates on the growth of Slack around the world, and hosted a discussion about teamwork with NBA superstar Andre Iguodala.
Podcast corner
Work in Progress returned after a brief hiatus with two new episodes. Episode 31 featured an interview with a retired executive re-entering the workforce as an intern, joining a team of millennial coworkers. Yes, it's just like the plot of the movie The Intern, but it really happened. Episode 32 covered new beginnings, as a Syrian family had to abandon their successful business, their factory, and a son's dreams of becoming a doctor as they fled to Canada. Thankfully, they've rebuilt that business in their new home.
More stories
We interviewed Slack's own staff to examine why offsites are so important, and how to ensure success in your own team-building plans (hint: it's not about trust falls). Looking to save some time each day? We wrote a post on how to build your own custom apps in Slack without having to write a line of code. Finally, we profiled an Eastern Kentucky tech development startup that retrains coal miners to be software coders, opening up new opportunities for hundreds of people in the region.
---
Slack is where work happens. Learn more at slack.com.