The Slack Variety Pack
A podcast about work, and the people and teams who do amazing work together.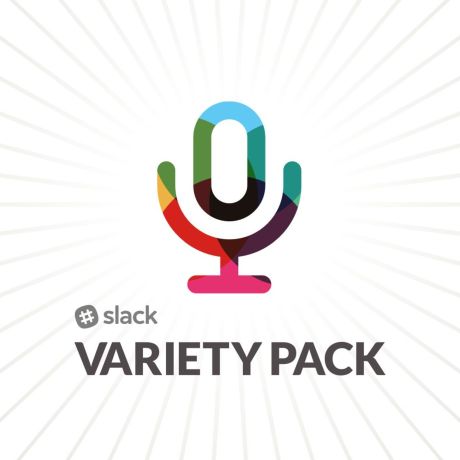 Slack Variety Pack is a podcast about work, and the people and teams who do amazing work together. In every episode, you'll find a glorious mix of stories on work culture, team work, innovation in the workplace, and our modern society. 
Listen on Apple Podcasts and  Soundcloud.
Episode Twenty Eight
We wrap up our final episode of the Slack Variety Pack with a topic near and dear to our hearts: Emoji.
Looking at this funny little way of communicating, in this episode you'll learn etiquette tips for using emoji in the workplace, explore new ideas around how emoji represent people and cultures, and hear a whale of an emoji story.
And, of course, you'll find out what's coming up next in our podcast adventures. It's Episode 28 – Hear Ye, Hear Ye Pack! 😘
See the full transcript of this episode
The Ps and Qs of using emoji at work

emoji are powerful pictographs that add an emotional layer otherwise missing from text communication. Unfortunately they can be misused, overused, and abused at work causing some ire or just plain confusion in the workplace. Slack's resident grammarian Anna Pickard and Internet linguist Gretchen McCulloch share some handy tips for keeping our emoji use in check. (✅)

Emoji Dick: A novel

By day, Fred Benenson is immersed in research and data. By night, he flexes his creative muscles moonlighting as an author. An emoji author. His repertoire so far includes an emoji translation of Herman Melville's Moby Dick and a guide on how to speak (or write) emoji.

Lost in emoji translation

Erroneous emoji use can lead to some serious misunderstandings. To keep the peace, a group of researchers from the University of Minnesota are studying the emoji that confound people the most with hopes this data will encourage emoji makers to standardize their designs and descriptions.

Towards a more representative emoji set

A group of high school female sophomores are challenged to design emoji that more accurately reflect themselves and the breadth of their interests. And it's not all sugar and spice.

Take a tour of Finland's emoji

The standard unicode emoji set is by no means perfect, but slowly it's evolving to be more inclusive and more representative of different people and cultures. Not leaving anything to chance, the government of Finland designed their own set of emoji to stir up national pride and drum up international interest.

This is what it emoji sound like

Coming back full circle with a segment from our first episode: We hit the streets and ask completely innocent bystanders to create sound effects for their favorite emoji. The results are nothing short of weird.
Episode Twenty Seven
The whirligig of life throws many seemingly unfathomable questions our way: What's stronger, coffee or tea? Is it better to stay put or live and work abroad? And if we can't find what we're looking for, do we quit looking or spin it into a new idea?
Onwards towards the great beyond, it's Episode 27 — Jet Pack.
See the full transcript of this episode
Fight of the century: Coffee vs. tea

Waking up this age old debate from its slumber, we talk to a few experts about which caffeinated beverage gives you the better boost.

Living and working as a digital nomad

As long as you have a laptop and a Wi-Fi connection, you can be on the job from anywhere in the world. But what happens when you try hosting a buttoned-up boardroom meeting over video conference with a cow mooing in the background? That's just one of the many things these overseas workers have to contend with.

Soul on wheels

Elizabeth Cutler and Julie Rice were two strangers with a similar outlandish idea. After a serendipitous lunch meeting, they decided to spin that idea into a fitness empire. Meet the founders of SoulCycle.

War and volleyball

Cherie Silvera keeps track of medical supplies in conflict zones for Doctors Without Borders. It's hard work, and often isolating, but thankfully a no-pressure weekly volleyball game keeps her going.
Episode Twenty Six
In this episode we meet some people who not only know, but live the old adage: "The show must go on". A circus family who continue their high-wire family tradition despite a terrifying tightrope tragedy, a handful of chefs who fuel rockstars on the road, a woman taking charge of heart disease with the help of an app, and a few wise children who school us on surviving group work.
Pluck up your courage and forge ahead, it's Episode 26 — Resilience Pack.
Life on the wire with The Flying Wallendas

Breaking up with bad habits is hard to do. Author and speaker Gretchen Rubin has been there, done that, and has some excellent advice on how you can do it too.

Prescription Social Media

Curatio is an app that matches people coping with the same health challenges around the world. Kind of like a (non-creepy) Tinder for wellness. Together users are more informed, better supported and more motivated to achieve their health goals.

Chefs on tour

Chef Chuck White and Anne Churchill cook for rock stars and pop sensations on tour. Their food is the glue that keeps the band and crew grounded. We join them on the road in their roadside kitchen stocked full of surprises.

How to survive group work: A practical guide

Newcomers to teamwork — kids taking on their first group projects — give their advice on surviving the sometimes awkward, often acrimonious, give and take of teamwork. We have so much to learn.
Episode Twenty Five
We talk to some very smart people about breaking bad habits, working out our multitasking muscles, and even learn how to navigate business travel without breaking the bank. It's Episode 25 — Booster Pack!
Better Habits, Better Work Life

Breaking up with bad habits is hard to do. Author and speaker Gretchen Rubin has been there, done that, and has some excellent advice on how you can do it too.

On Mastering Multitasking

What is multitasking exactly? And how on earth do you get good at it? Can you get good at it? We have so many questions, and neuroscientist Kelly Garner has answers.

Business Travel Hacks

You know those people that always seem to know how to get impossibly good deals on airfares and upgrades? LoungeBuddy co-founder Tyler Dikman is one of those people. And he has the tips to prove it.
Episode Twenty Four
It's the little things that count: A comma that turns a sentence into pure poetry, a chaise so relaxing it eases your mind into a state of genius, a simple math formula that diagnoses diseases, or some simple words of encouragement to uplift you right when you need it most.
We're getting to know some people who use a bevy of tiny details to do really great things in Episode 24 — The Little Things Pack!
Crisis Text Line

A new form of crisis intervention is gaining traction and all you need to access it is a tap of a finger. Using text messages to connect people with a team of volunteer counselors, Crisis Text Line can then use anonymized data to make the service smarter every day — and thereby more responsive to more people in crisis.

Lounging Your Way to Success

Meet the people of Wantoo — a startup that eschews desks in favor of ottomans and sofas, all in the name of conversation. It may sound like a new way to work, but it turns out people have been doing this since the toga-wearing, wine-swilling days of the ancient greeks. And it's working!

Tips on Writing Well from the Comma Queen

Longtime New Yorker copy editor and bestselling author Mary Norris schools us (gently) on writing well. She also explains why this skill still reigns supreme over automated spell-check, which is a sobering thought given how terrible some of us around here are at grammar. 

Problem Solving with Machine Learning

Kaggle is an online platform that gathers a community of number crunchers, analytics soothsayers and data wizards (of the technical kind, there's no actual wizardry involved, we don't think). Together they build machine learning algorithms that can do anything from grading high school papers to diagnosing eye diseases.
Episode Twenty Three
A simple introduction can go a long way: It can transform mere coworkers into close friends, convert co-working spaces into communities, lead you to brilliant people who help you see the truth about yourself, and even teach grade school kids the ways of the world.
Greetings friends, allow us to introduce you to Episode 23 — Meet Pack!
How to Get to Know EVERYONE at Work

Danny Groner refused to be a nameless face in the crowd, so he embarked on an epic journey to get to know every single person at his fast-growing company. Now he wants you to pay it forward.

Making Business Child's Play

In which we visit a grade school in Texas where students are taught to become budding entrepreneurs. Move over lemonade stand, this is serious business.

Designing A Life You Love

Award-winning product designer Ayse Birsel doesn't just design furniture, she uses those principles to help you construct the life you've always imagined.

To Co-Work or Not to Co-Work?

Co-working spaces: A breeding ground for creative productivity, or a distracting muddle of incongruous working styles? It's the eternal question plaguing freelancers, contractors and startup venturers everywhere — so we brought together two entrepreneurs (and a clutch of experts) to debate the pros and cons.
Episode Twenty Two
In this episode, we invite best-selling author and speaker Brené Brown to help us unpack the stories we tell ourselves, that change the way we work together. We also dig into new research that may enhance your coffee habit, use an old kitchen gadget to test a new productivity tip, and talk to an intrepid team who left the comforts of city life to take up the post among the penguins in the Antarctic.
Dust off those mental cobwebs, it's Episode 22 — Flip Pack.
The Right Way to Drink Coffee (According to Science)

The problem isn't that you drink coffee, it's when you drink it that could make all the difference.

Pomodoro Productivity

A simple age-old kitchen timer can have a profound effect on how productive you are at work. We experiment with tic tocking our brain into efficiency.

Flipping the Script

Our brains are constantly hard at work writing scripts and narratives about how other people perceive us. Trouble is — according to best-selling author and researcher Brené Brown — most of those stories are simply untrue! Here, she expertly debunks our inner monologues and reveals how editing your thoughts can help you, and your team, work better together.

From Antarctica with Love

"Let's all go work in Antarctica!" Said no one, ever. Oh, except for this team of brave souls who doubled down on down-feathered outerwear and took up the post at the Port Lockroy post office.
Episode Twenty One
One for the introverts, the seekers of solitude, the I-just-need-a-minute-to-myself-ers! (So basically, everyone, at some point or another). In this episode we find out how a cardboard box can be the secret to finding alone time at work; whisk you away from your smartphone to restore your creative spark; find solace surfing the waves of the lonely web; and explore the wild world of a Winter Keeper, working solo to protect one of our most treasured national parks.
Quick, find a place all to yourself — it's Episode 21: Alone Pack!
Need Some Personal Space? Put a Box On It

Do you break into a cold sweat whenever you're in a crowded area? Do you get heart palpitations at the thought of standing in a room full of people? Japanese Entrepreneur Mikito Tanimoto has the solution for you — and all you need is a cardboard box and a smartphone.

Disconnected: A Modern Drama

Some believe a life without a phone is not worth living. Others think life is for the phone-less. We take to the streets to hear your opinions on the great phone debate.

On Pulling the Plug

These days, people think the solution to finding solitude is to unplug your phone. According to Michael Harris, author of "The End of Absence", there's one thing they're forgetting: To really recharge, in work and in life, you might just need to unplug from people, too.

Surfing the Lonely Web for Internet Gems

Like the ocean, the depths of the internet features leagues of bottom-feeder content, things like viewless YouTube videos and social media posts devoid of any actual social activity. But to writer and Internet explorer Joe Veix, the content he finds there feels a lot closer to life on the surface.

The Winter Keeper

Steve Fuller has spent the last 42 winters alone in the wilds of Yellowstone National Park. His team? A motley crew of bisons, caribous and grizzlies — and he wouldn't have it any other way.
Episode Twenty
Don those thinking caps, in this episode we're reevaluating old work habits, from that pesky alarm clock serenading your eardrums in the early mornings, to finding new ways to deal with those petty inter-office spats, to rejiggering the very idea of the full-time gig.
Be prepared to sport your best IRL 
 — it's Episode Twenty: Rethink Pack!
A Case For Flexible Start Times

Unlike your alarm clock, your brain houses no snooze button, making 9am start times the equivalent of a medieval torture device for the masses. We enlist the help of Oxford University neuroscientist Dr. Paul Kelley to provide evidence in favor of flexible start times. Gavel, please.

An Unconventional Guide to Getting Along at Work

Your job isn't alway sunshine, rainbows and lollipops (unless you're Willy Wonka, in which case, please get in touch). But it's especially challenging if you're not on the same page (or planet) as one of your co-workers. So, we took a poll: How do you resolve office clashes?

Mic Check: Solving Office Discord with Dispute Karaoke

Working things out doesn't have to involve all that chit-chat. Instead, you can discover deeper truths (and deeper grooves) by singing your way out of strife.

Musicians on (Startup) Tour

Soon, legions of musicians will descend into Austin, Texas for South by Southwest (SXSW), hungry to remove "starving" from their "starving artist" résumé. We hear from a few creative cats who found a new way to crack the business and keep on keeping on.

Restoring Office Harmony with Aikido

There's an art to maintaining Kumbaya-level accord in the workplace, and there's a Japanese martial art that can help you achieve it. (Disclaimer: No coworkers were harmed in the making of this segment.)

We Play Work 'Would You Rather'

Would you rather be without elbows or knees? Would you rather change the past, or see the future? Would you rather have one full-time job OR a slew of freelance gigs? We hear from a man in the process of shedding his full-time security blanket and a woman who's mastered the side-hustle juggle.
Episode Nineteen
For your dubious pleasure, we assemble a ragtag crew of outliers, rabble rousers, and even a "demon extractor" in search of the swiftest way to expel toxicity from work and life. They share with us the secrets to facing conflict, wowing at job interviews and soothing ailing auras. Be ready to cast out your demons: it's the most cleansing episode yet — Episode Nineteen: Oust Pack!
Firing with a Conscience

The office Albatross, the millstone around the neck of progress, the person whose very presence is the elephant in the room. But, despite this, letting them go just feels inhumane. This is the story of Cameron Herold, former COO of 1-800-GOT-JUNK, and the day he finally learned how to let go.

The Writing on the Wall (Hint: It Says "Exit")

Side-eye stares and low whispers giving you the inkling you're on your way out? Act quickly, and you can use this comprehensive guide to leave your job with your head held high (just be sure not to smack your nose on the door on your way out, it will NOT serve your purpose).

Nice Girls Don't Win Races

Ever since she was ten years old, Julia Landauer's been lapping the boys at their own games. Today, she's a champion NASCAR driver and, if that weren't enough, she also recently earned a science degree from Stanford University. To get here, she had to break all the rules.

Totally Random Interview Questions

Job interviews are tough. Your palms get all clammy, your stomach is tied up in twists and knots, and that's exactly the moment your interviewer decides to throw out a question completely out of left field! We hit the streets to find out the strangest questions you've been asked at a job interview.

I'll Take 'Impossible Interview Questions' for 500, Alex

How many quarters does it take to reach the top of the Empire State Building? What's 54 times 17? Why are companies like Google and JetBlue asking these questions in job interviews? What does this have to do with the job you're applying for? And for the love of Pete, how do you answer them???

Exorcist Next Door

Most writers moonlight as bartenders or restaurant waitstaff to bring in an extra buck or two. Not Rachel Stavis. Rachel's a full-time writer with a part-time job in, of all things, "entity extraction". Here, she shares how fulfilling it can be to do away with judgments and embrace your (supernatural) gifts.
Episode Eighteen
It's a new year! And with that comes endless possibilities, including (but not limited to):
Conquering work-related resolutions
Team-building on cliffs during lightning storms
Becoming the coolest person in your office by not upgrading your phone
Becoming the smartest person in your office by using your phone
Engaging in bovine-centric virtual role play
Is 2016 going to be the greatest year EVER or what?!
Resolutions Get Real: A 2016 Trend Prediction from Rohit Bhargava

Want to be more empathetic in 2016? Put yourself in someone else's shoes. Better yet, put yourself in an animal's hooves. Master trend forecaster Rohit Bhargava explains why virtual reality will take off in 2016.

All Hail The New Resolution

Most resolutions involve some mixture of consuming less and exercising more. These days, there's a new kind of resolution on the block. We hit the streets to find out what people want to change about their work life in 2016.

2016: The Year Of The Team

I'm going to travel more! I'm going to learn a new language! I'm going to get promoted!

Most resolutions focus on individual progress; not a bad thing! But this year, it's all for one and one for all.

The Art of Predicting the Future

Crystal balls, fortune tellers, and magic eight balls are SO yesterday. Today's modern mystic is a human named Rohit Bhargava—a man with a proven method for spotting trends before they go mainstream.

Your 2016 Fitness Resolution Is Focusing On The Wrong Muscles

What if we told you the best form of exercise might be playing games on your phone? This new fitness regimen is a classic case of brain over brawn.

Trendspotting: Everything Old is New Again

For those of you stubbornly clinging to your smartphones of yore, Rohit Bhargava has some good news: Being behind may actually put you ahead in 2016.

Extreme Team Building

One might assume that dangling off the side of a mountain during a lightning storm is not the best way to bond your team. One would generally be right. Or WOULD one?

Rohit Bhargava Sees a Bright Future for All

We close out the Resolution Pack with a final prediction from trend oracle Rohit Bhargava who predicts that the future for silver-haired citizens is golden.
Episode Seventeen
Much like a Greatest Hits compilation, this episode is an assembly of some of our most popular stories of the year, with a few new stories to prove that the band hasn't broken up.
So if you've ever wondered where the word "podcast" came from, why Ashton Kutcher is the King of Silicon Valley, or wanted to hear grandchildren shame their grandparents through the power of an open letter, then this hit-stuffed podcast equivalent of a K-Tel record is just for you.
With love from the team at Slack, it's Episode Seventeen: Our Favorite Things – Part II
Stocking Stuffer: Glorious Podcast Recommendations from the Team at Slack

If your 2016 resolutions include "listening to more podcasts", do we have the thing for you! Our podcast-loving team have put together some of their favorite brain-tickling, ear-pleasing favorites to start your new year off right.

What's in a Name?

Inventing brand new words: sounds complicated, befuddling, nigh impossible! Or is it really just a case of making things up? Here, we reveal the unexpected origin of the word "podcast".

Happy listening!

An Open Letter To Grandparents

Preparing to have the conversation with your grandparents this holiday? The tech conversation? You might want to take a cue from these kids first.

Six Degrees Of Ashton Kutcher in Silicon Valley

Ashton Kutcher is SO the Kevin Bacon of tech. Don't believe us? Play along as we connect celebrity tech investors to Ashton in six moves or less.

Making Banana Horse Butts: Lessons in Creativity

New York Times illustrator Christoph Niemann explains the necessity of enduring creative pain to achieve creative genius. Now our brains hurt, but in a good way.

'Pasta La Vista Baby' and 18 Other Food Truck Puns

If nothing else, the internet has increased society's appetite for high concept meals on wheels, and word play. In these realms the internet becomes hungry. Hungry like the wolf (also a great name for a carrion-based food truck).

Episode Sixteen

To introduce this episode of the Slack Variety Pack, we invite you to join us in a merry little chorus sing-a-long. Altogether now:

Parents and Pinterest and holiday greetings,
Permanent shorts and celebrity meetings.
Podcast suggestions to make your ears sing,
These are a few of our favorite things!

With love from the team at Slack, it's Episode Sixteen: Our Favorite Things Pack.

Podcasting 101

What better way to dive into a podcast about our favorite podcasts than with a guide to making your very own podcast sound like all the podcasts you love. Not to mention, podcasts.

Our Favorite Podcasts

We channel our inner Oprah to bring you a collection of our favorite podcasts, recommended by a few lovely members of the team at Slack.

Happy listening!

When The Weather Outside Is Frightful, The Person Who Wears Shorts To Work Is Delightful

Who is the most thick-skinned person in your office? Probably the person who insists on wearing shorts to work all year round. You know the one.

Will Hall: King Of Weird Pinterest Boards

We've met quite the cast of characters over the last year, but none as devoted to inside jokes as Will Hall, chief curator of "Pony Fight": A random selection of bizarrely themed Pinterest boards.

Parents Try Very Hard To Describe Their Kids Jobs

Have you ever heard your parents try to explain what you do for a living? Perhaps you should. Because apparently, they don't have a clue.

'David After Dentist' on David After 'David After Dentist'

Yes, that David! The David! Youtube David!
Episode Fifteen
This episode is the gift that keeps on giving. We have stories for the somewhat 'naughty' and a veritable sleigh full of 'nice' stories guaranteed* to give you warm and fuzzy feelings no matter what holiday you're celebrating.
*N.B. Warm fuzzies not guaranteed. If you do experience warm and fuzzy sensations, please consult your doctor.
Weird and Wonderful Holiday Office Parties

It's that time of the year: The annual staff holiday party. Every company does theirs differently, some companies do them really differently.

Bonding in the Buff: What's an American to do?

In North America, a holiday retreat like this could very well wind up with some kind of lawsuit. But in Berlin, sweating things out with your coworkers is really no big thing.

The Internet Has Completely Ruined the Joy of Giving

The art of personalized gift-giving is obsolete. So this year, Santa will be emailing you a generic digital gift card. Fear not, we have a plan to rescue this age-old art form.

This Sock Company Is The Most Portland Thing Ever

Fact #1 – For a long time, Portland Airport had some of the ugliest carpet in the world.
Fact #2 – There is a hot fashion trend in wacky sock patterns.
Fact #3 – There is a Portland company capitalizing on Fact #1 and Fact #2.

Slack's Favorite Annual Holiday: Calloween

Slack is a messaging app used by all kinds of teams to pull off all kinds of amazing stunts. Here at Slack, we sometimes use it to orchestrate a multi-country prank in honor of our beloved CTO Cal Henderson.

The Whitney Houston Of Christmas Music

Elizabeth Chan had a dream; an incredibly specific dream. She wanted to make a living doing just one thing: singing Christmas songs. So she did.

The Actual Scientific Reason Behind the "Warm Fuzzies"

We assemble a festive panel of experts to learn the actual root cause of those warm, fuzzy feelings we tend to get over the holiday season. Science!
Fourteen
Thanksgiving is a time of year for giving thanks, and for stuffing. Stuffing the turkey with stuffing. Stuffing yourself with stuffing. Stuffing your car and online shopping cart full of … STUFF.
And of course, stuffing your ears with podcast deliciousness. Thankfully, we have just the thing: Episode 14 of the Slack Variety Pack (Stuffing Pack).
Google Gobble

In which we pit man against machine to determine, once and for all, who is the ultimate authority on cooking the best bird ever.

The High Stakes of Black Friday

On Black Friday, finding a bargain is a sure thing. Launching your business on the biggest shopping day of the year, though? Definitely not a sure thing. This year, one new wearable tech company is taking that risk — and it's all or nothing.

"Cappuccino For Wave!" And Other Coffee Cup Misnomers

It's probably happened to you: You order your coffee, state your name, and then stand confused and caffeine-deprived as the barista calls out something entirely, indecipherably different.

(Tasting note: Best served with a side of erroneously-labelled, steaming hot pumpkin spiced beverage.)

When Agile Software Theory and Parenting Collide

Real life scenarios, like the flocking of birds, have inspired countless innovations in technology development. But what happens when these lessons are applied back to real life scenarios, like raising your kids?
We find out.

How To Pull A New Career Out Of Your Hat

Here's a head scratcher: You have a career you've always known and loved. Suddenly, you're not legally allowed to do it anymore. So, what do you do? You start making hats. Obviously.

Those Regrettable Online Purchases

In the aftermath of Cyber Monday, the final bastion of the bargain shopping frenzy, consumers emerge weary-eyed from their purchasing haze to discover their carts are filled with … piles of bizarre things.
Episode Thirteen
There are 365 days, 52 weeks, and 12 months in a year — Plenty of time for setting world records, writing critically-acclaimed debut novels, adjusting to Daylight Savings, and listening to podcasts.
Like this one: It's time for Episode 13: Tick Tock Pack
The Highly Effective Habits of Successful People … If They Were Alive Today

Good old Benjamin Franklin, and many other dead luminaries, maintained strict daily routines. These included notable keys to success like eating breakfast and getting struck by lightning. Can you imagine what their routines would look if they were alive and well today? We do, in handy listicle form.

What Is the Most Powerful Question in the History of Questions

Becoming a neuroscientist is hard. Becoming a neuroscientist AND best-selling author? Practically impossible! Or so you'd think. This is the incredible story of what happened when Lisa Genova, author of acclaimed novel and Oscar-winning movie Still Alice, asked herself: "Why not me?"

When Quitting Is The Best Option

One of the greatest privileges afforded to you as an adult is the ability to quit anything you want, whenever you want, with minimal guilt. We talked to a few people about the moments that drove them to exercise that privilege.

Jason Fried Helps A Family Learn How to Work Remotely

Thanks to technology, many workplaces have evolved from cubicle kingdom to free-flowing open concept office. Some company founders and their employees are even questioning whether a physical office is necessary at all. Meet one family that bravely put this theory to the test.

Wasting Time Adapting to Daylight Savings Time

Is there anything worse than trying to figure out how to change the clock on your microwave or adjust the time on your car dashboard using those teeny, tiny buttons? Nope. There is not. Nothing. It's literally the worst thing ever.

The Fast And The Curious — A Tale of Athletics and Academia

Molly Shaffer Van Houweling is a full-time law professor at Berkeley. She's also a world-class racing cyclist trying to set a new world-record. Clearly, multitasking is one of her strong suits.
Episode Twelve
Halloween is just around the corner. It's lurking in the shadows… waiting to jump out and scare the beetlejuice out of you.
For this ghoulish occasion, we have assembled a terrifyingly good collection of stories. Tune in and:
Discover job descriptions that double as Halloween costumes
Learn to cope with those frightful, goosebump-inducing notifications
Hear the cryptic sounds emanating from the world's creepiest Airbnb
Velcome to Episode Tvelve… Ze Scaredy Pack! BOOOO!
Totally Appropriate Costume Ideas for the Halloween Jobseeker

This Halloween you can either dress for the job you want, or dress up as the job you want. Because why be a plain old ninja when you can be a codeninja?

An Insider's Guide to Quitting Your Job & Traveling The World

Who doesn't fantasize about quitting their job, selling their earthly possessions, and gallivanting around the world? We talk to a South African couple who didn't just dream the dream, they actually went out and lived it.

Career Change, Aisle 12

In which a personal crisis drives a successful TV director to a satisfying job as grocery store fruit stacker.

A Horror Index For Notifications

Ding! Buzz! Bleep!

Notifications can elicit anything from a shrug of indifference to a full on sweaty, hivey outbreak. But fear not, this handy list helps you gauge the appropriate emotional response to common notifications.

File Under: Silicon Valley Sleepover

You know what they say: When in San Francisco… book a stay at the massive offices of a local tech start-up. Ok, fine, no one says that. Still! Welcome to Social Print Studio, the world's weirdest Airbnb.
Episode Eleven
You deserve a break. Seriously. Your iPhone screen has been cracked for months. Someone stole your artwork and is selling it on stuff all over the internet.
So take a nap.
Go for a nice walk.
And please… treat yourself to a beautiful handmade artisanal ice cube.
It's Episode 11: Break Pack.
Everyone I Know Has a Broken Phone Screen

Reading this through spiderweb cracks of a shattered phone screen and swiping your thumb across glass that may, quite possibly, do your digit damage? You are not alone.

How to Reclaim Stolen Art From The Internet

One artist's back‑of‑the‑napkin sketch, uploaded to the internet, took on a sadly all‑too‑familiar life of its own. This is the inspiring story of how she reclaimed her art, her career, and her love for both.

Artisanal Ice Is An Actual Thing. No, Really.

Meet Alex Gregg — entrepreneur, artist, purveyor of magnificent hand‑crafted ice cubes. Yes, ice cubes. Yes, hand‑crafted. Yes. We know.

Mostly Horrible Advice For Dealing With Your Mid‑Afternoon Energy Slump

It's inevitable. After lunch, your energy falls off a cliff. We hit the streets to find out the top strategies for coping with the mid‑afternoon slump. (DISCLAIMER: Results not guaranteed.)

Why You Should Nap At Work

In which we travel to South Korea to uncover the productivity‑enhancing secret found in almost every office: nap rooms. In case you needed some documentary evidence to convince your office manager.

Walk Your Way to Creative Bliss

All the best writers claim — to anyone in earshot, particularly their publishers — that walking is not a distracting procrastination: On the contrary, it's the antidote to writer's block. Now researchers are marching in to back that up.
Episode Ten
Join us in the not‑so‑distant future as we explore strange new worlds and the evolution of society. Imagine a time where:
There are no bosses
Farmers are the new technorati
Clean water is the new oil
Your toddler can use an app to make playdates
Enter the twilight zone in Episode 10: Pack To The Future!
Old MacDonald Had A Drone

When you think of tech early adopters, you likely think of iPhone‑toting, Oculus Rift‑sporting Silicon Valley types. But it turns out, it's farmers who are way ahead of the game.

Holacracy: Death to middle management

Everyone has boss stories: Great boss stories, horrible boss stories. Hardly anyone has "NO boss" stories. Until now. Welcome to Holacracy.

Lonely toddler? There's an app for that.

In today's apps, the "swipe" motion is all the rage, but what if that technology was applied to a different purpose: Playdates. Swipe right on snack‑sharing toddler, left on prone‑to-tantrums toddler.

What a really good beach and Robert Kennedy Jr. have in common

A successful criminal and civil rights lawyer makes a radical career change. Now he fights for clean water. Meet Mark Mattson, Waterkeeper.

A Field Guide To Your Co‑Workers

"Being able to recognize my co‑workers as 'Hoverers' and 'Speakerphoners' has not only improved my workplace relationships, it has also taught me a lot about myself. This is must listen for any office worker!"
—Wilson Carstairs, Professional Podcast Blurb Writer
Episode Nine
Episode 9 is the audio equivalent of a full moon. There will be unusual behavior. You will use words incorrectly. Puns will suddenly become funny. And bananas will become horse buttocks. And because it's a full moon… there will be wolves.
How to Use The Word 'Algorithm' With Confidence

If you needed an algorithm for how likely the human race was to be destroyed by wolves, you would need data on the number of wolves, the time taken to eat one human, and how tasty humans are compared to bacon. Or would you? What does algorithm mean, exactly?

Making Banana Horse Butts: Lessons in Creativity

New York Times illustrator Christoph Niemann explains the necessity of enduring creative pain to achieve creative genius, which is exactly how this episode came to be named.

'David After Dentist' on David After 'David After Dentist'

When we first met David in a viral video 6 years ago, he wasn't looking too well. Now, he's back to set the record straight, and he's bright eyed and bushy tailed. Like a wolf.

S.H.A.R.E. – The Foolproof Video Sharing System

Like a wolf sharing a fresh kill with the pack, we all look forward to sharing viral videos with our co-workers. But not so fast! The S.H.A.R.E system outlines the five components of truly outstanding viral videos.

Everything You Know About Workplace Well-Being Is Wrong

In the resplendent light of the full moon, best selling author Tom Rath emerges to reveal the unconventional truth about living a healthy, meaningful life.

'Pasta La Vista Baby' and 18 Other Food Truck Puns

If nothing else, the internet has increased society's appetite for high concept meals on wheels, and word play. In these realms the internet becomes hungry. Hungry like the wolf (also a great name for a carrion-based food truck).
Episode Eight
You will not believe our productivity in Episode 8: Action Pack. We are seriously getting things done. A short checklist:
All those pesky HR problems? Solved.
Configure a bot to run meetings and order lunch? Done.
Change the internal workings of Hollywood? Check.
How did we do all this? We got a little help from some guy named David Allen…
Kids Solve Everyday Workplace Problems

Resolving HR disputes can require some outside-the-box thinking, and nobody thinks more outside the box than a group of kids who have never stepped foot inside an office. You may want to take notes.

10 Things Your Smartwatch Doesn't Measure Yet

Today's smartwatches track vital biometrics, tomorrow's will measure just about everything else – from how many dogs you petted to how much time you've spent with your hand stuck inside a pickle jar.

How The Bot Revolution Will Make 

Your Lunch

 Work Easier

Unlike the sinister robots depicted in movies, most bots just want to chat. Bot builder Ben Brown explains how bots will make everything in your work life, from meetings to lunch, easier.

Author David Allen's Still 'Getting Things Done'

13 years after David Allen published Getting Things Done: The Art of Stress-Free Productivity, he takes us through the GTD lifestyle, where we learn to focus despite the constant distraction of social media, smartphones, and the internet.

Why The Black List Is a Hotbed for Finding Oscar Winners

Franklin Leonard was doing a bad job finding good screenplays, until he asked his pals to compile a list of the best unproduced scripts. Find out how The Black List helped Slumdog Millionaire, The King's Speech, Argo and other notable movies get made.

If Real Stores Acted Like Web Stores

Online shopping is the greatest. It's fast, convenient, and devoid of human interaction. But what would happen if physical stores started operating like their virtual counterparts? You may never shop again.
Episode Seven
It's summertime and the living is easy. So take as much vacation as you want, spend hours perusing the world's weirdest Pinterest boards, become a Twitter celebrity, and PLEASE update that tired email signature from 2007. Or at least do all those things vicariously, through the power of podcasting.
Welcome to Episode 7 – The Laid Back.
Introducing Will Hall, The King Of Weird Pinterest Boards

Pinterest features a cornucopia of collections awash with rustic weddings and the latest in hipster fashion. But, thanks to Will Hall, you can ALSO enjoy child bodybuilders, spelling bee losers, and hair weaves discarded on sidewalks (you know, if you're into that kind of thing).

Six Degrees Of Ashton Kutcher in Silicon Valley

In Hollywood, almost anyone can be connected to Kevin Bacon in just six moves. In Silicon Valley, Ashton Kutcher claims that fame. Play along with us as we connect celebrity tech investors to Ashton in six moves or less.

This Is What It's Like To Be Twitter-Famous

He has hundreds of thousands of followers on all sorts of social media channels. He's not a rapper, he's not an actor, and he's not a Kardashian. He is simply ingenious at social media. Meet Anil Dash, the poster child for 'internet fame'.

The Evolution of Email Signatures

Much like primordial slime eventually grew legs and turned into a frog, email signatures have evolved significantly over the years. Join us on an epic journey through time as we look back at the trends that dominated that little bit of text signing off your emails.

The Ultimate Job Perk: Unlimited Vacation

Work wherever you want, whenever you want, however you want. Oh, and take as much vacation as you want, too. Welcome to the future of work.

How To "Use Your Phone" At Work

No one talks about it. No one feels comfortable doing it. But EVERYONE has to do it. Behold! The definitive guide to "Using Your Phone"* at work, guilt free.

*NB: this may or may not actually be about using your phone.
Episode Six
OH MY. Someone just stole all my passwords! My parents have NO clue what I do for a living!!! I think my disposable coffee cup lid has been touched by a dozen strangers!!! AND I'm 12,500 feet under the ocean, stuck on the deck of the Titanic!!!…
Welcome to Episode 6: The Panic Pack. Breathe in… breathe out. You're in a safe place now.
Parents Try Very Hard To Describe What Their Kids Do

Have you ever heard your parents try to explain what you do for a living? Perhaps you should. Because apparently, they don't have a clue.

Leadership Lessons Learned On The Deck Of The Titanic

Dr. Joe MacInnis learns valuable leadership lessons every time he almost dies (which is surprisingly often). Discover what the brink of death can teach us all about what true leadership means.

How Etsy's CEO Crafts A Productive Day

Chad Dickerson isn't just the CEO of Etsy – he's also a priority-driven powerhouse of productivity. Here are his tips to making the most of your time.

Strangers Reveal Their E-mail Passwords

A random sampling of people's actual passwords proves comical and worrisome.

How Hackers Steal Your Password

Much like discovering how sausages are made, some things will keep you up at night. Welcome to your next nightmare – this is how hackers are trying to steal your passwords. (And what you can do to protect yourself.)

The Horrors Of Coffee Cup Lid Selection

Welcome to the most terrifying decision of your day that you've possibly never considered before – how do you get one of those plastic coffee cup lids off the stack without getting someone else's germs in your mouth?
Episode Five
Episode 5: Why the design of elevators makes for a horrifically awkward social experience. Learn how to nail your start-up pitch with the Hollywood Elevator Pitch. And meet Black Girls Code, an organization working to fix Silicon Valley's diversity problems. Rise up for Episode 5: Lift Pack!
The Term 'Elevator Pitch' Was Only Coined in the 90s?

The Elevator Pitch is now so ubiquitous that it feels like it must have originated in the era of Mad Men. So it's hard to believe – but true – that idea was Ilene Rosenzweig's tactic to advance her boyfriend's writing career at Vanity Fair in the 90s.

How to Pitch Your Startup, Hollywood Style

Hollywood movies have long been pitched using the "it's X meets Y" elevator pitch formula. It's Batman meets On Golden Pond. It's Elf meets Halloween. It's Fried Green Tomatoes meets The Shining.

Brace yourself: the Hollywood Style Elevator Pitch has invaded Silicon Valley as THE way to seduce Venture Capitalists. As evidenced here, the results are not always pretty.

The Actual Etiquette of Elevator Awkwardness

Ding! The doors slide open. You are filled with dread, knowing that you are about to enter one of humanity's most awkward social situations: riding the elevator with strangers. Welcome to the strange world of elevator design theory.

It's Not Me. It's You, Voicemail. It's You.

The Dear John message we should ALL send to our least favorite relationship partner: voicemail.

The Complicated Story of the Very First Smartwatch

The number of features a smartwatch has is practically infinite, but during the rise of mechanical watchmaking, it took an army of the world's best jewellers, craftsmen, mathematicians, and astronomers decades (and the equivalent of millions of dollars) to create a the most complicated watch the world had ever seen.

Black Girls Code Inspires the Next Generation of Tech

Much has been written about Silicon Valley's diversity problems. Simply put, there are too many massive companies overflowing with white dudes. Enter Black Girls Code, an organization that is pushing for necessary changes in the world of tech.
Episode Four
Episode 4: An homage to those with the dedication to turn their cubicles into overflowing Hello Kitty shrines. An outpouring of emotion for outdated cords and cables. And black holes popping in and out of existence inside your knuckles. Welcome to Episode 4: Burst Pack.
Hallelujah! Reinventing the Choir! Choir! Choir!

Nobu Adilman and Daveed Goldman turned a hobby into a phenomenon and are changing lives by reinventing the choir.

A Loving Tribute to that Useless Box of Cords in Your Home

Those over-complicated TV cords; the charger for your old Blackberry; that first generation Firewire cable. All potent symbols of technology past. All still being stored in a box somewhere in your home.

The Science of Knuckle Cracking Explained

Everyone knows a knuckle-cracker. Popping, clicking, and cracking wherever they go. Did you know that the cause for these pops has been a heated scientific debate for decades? Or it was: Until the Sherlock Holmes of joints 'cracked' the case.

This is Your Brain After 24 Hours on Facebook

The average person currently spends 42 minutes a day on Facebook, a number that increases every year. We wanted to know what this trend means for our future. So we spent 24 hours STRAIGHT scrolling, liking, sharing, posting, poking and updating.

How to Have an Awkward Office Call

A short and instructive guide on how to manage personal calls in the office.

The Unfortunate History of the Cubicle

Robert Probst had a dream. A dream to revolutionize the office, empower workers, and change lives. Arguably, he ended up doing the EXACT opposite.

Why You Should Be More Like That Co-Worker With 32 Action Figures On Her Desk

You know that guy with the diorama of Tatooine on his desk? Or the woman who has turned her cubicle into a shrine for Dolly Parton? They might just be onto something.
Episode Three
It's Episode 3, the Sensory Overload Pack. Discover the smelliest foods to microwave in the office, the instinctive reactions we have to notification noises, and how the very essence of our being—DNA—might revolutionize data storage. Sounds! Sights! Smells! And as a bonus: Shorts.
The Rallying Cry of the Office Short‑Wearers

Who is the most thick‑skinned person in your office? Look for the man in shorts. He doesn't care what you think because he prioritizes comfort over fashion style. Also, he literally has thick enough skin to tolerate wearing shorts in frigid temperatures.

Why OK Go Is Releasing Their Album On DNA

It's not every day that you find a story that combines the band OK Go, DNA, and being able to store all of human knowledge in the palm of your hand. It's not every day you even think about all those things. Today is that day.

Every Tech Conference, Tweet‑up, and Networking Event in One

See ya later, SXSW. Toodle‑oo, TED. This is the greatest festival conference in the world ever.

The 6,000‑Year History Of Vacations

You can feel it. That little burst of energy and excitement. Summer is almost here. And with it… summer vacations. It's baked into our culture. We take it for granted, but can you imagine a time without time off? Discover the history of how vacations came to exist.

The Worst Foods To Microwave

It's ground zero for conflict and tension in the office: the office kitchen. There are culinary crimes being committed daily, arguably the worst among them? The inconsiderate colleague who microwaves foods that leave a thick and heavy stench hanging over your cubicle for hours. Let's talk about that for a minute.

Our Aural Tribute to Anxiety-Inducing Notification Sounds

Ding! Bloop! Gonk! There's seemingly no end to the stream of sounds coming from all of our devices, all the time, demanding our attention, worming their way into our brains. Find out how we feel about notification noises, and then sit back and enjoy our soothing audio relief potion.
Episode Two
In the second episode of the Slack Variety Pack, we examine the origin and secret sauce of the most popular podcasts, talk to Tina Roth Eisenberg about finding creative solutions for tough problems, and meet the man who quit his job to make a living taking pictures of waves.
How the Podcast Became

How do you invent a brand new word? Intensive etymological research, dark magic, or the pressure of a deadline? This is the true story of how the word "Podcast" stumbled into being.

Podcasting 101

Have you ever wondered how to make your podcast sound more like all your favorite podcasts — the really, really good ones that we all love? This is our audio cheat sheet and homage to some of our favorite podcasts.

The Wave King

Meet Clark Little, a man who quit his job of 17 years to take photos inside waves. Today, he has 1.4 million Instagram followers, had his photos exhibited in the Smithsonian, and has never looked back.

Water Cooler Confessions — The Bathroom Break

The true story of one office worker who creates a ridiculously elaborate ruse just so he can play an hour of games in the bathroom every day. Seriously.

The Visual Microphone

Traditional microphones capture sound waves as they hit a diaphragm and cause it to vibrate. Scientist Abe Davis realized that sounds waves hit all sorts of other objects, too. So he invented a way to capture sound from virtually any object, from a potted plant to a bag of chips.

The Coffee Shop Workforce

Coffee shops are full of people hard at work and we have some burning questions. What are they working on? Why are they choosing to do it in a coffee shop? And what would happen if a business decided to transform their dull, corporate cubicles into an atmosphere more reminiscent of a bustling, artsy coffee shop.

Tina Roth Eisenberg on Problem Solving

The inventor of Creative Mornings, the TeuxDeux minimalist calendar app, the Swissmiss design blog, Studiomates co‑working space and Tattly temporary tattoos shares her secret for turning tough problems on their heads to find creative solutions.
Episode One
In the debut episode of the Slack Variety Pack, we reach for the stars, work out a way of adapting emoji for audio use and delve inside a computer capable of both changing the world and blowing your mind (at the same time).
Audio Emoji

There is no way to dictate an emoji into Siri or OK Google because emojis don't have sounds… until now.

Quantum Computing Explained

Go inside a new $10 million quantum computer and find out how it might just change the world as we know it.

Open Letter to Grandparents

Grandchildren of the world unite to send a powerful message about technology to their grandparents.

Office Re‑Creation

Hear the true story of a real‑life, over‑the‑top office fist‑fight.

Mars Meditation

Meet a school teacher willing to give up everything for a chance at a one‑way trip to Mars.

BJ Novak

Drop into a hockey game with author and Office star BJ Novak to find out how to push through a tough challenge at work.

Start‑Up Club — LingoFake vs. RoboSmooch

Two entrepreneurs pitch ridiculous start‑up ideas for your consideration.