The year in communication and collaboration at work
What we learned about building teams, giving feedback, and creating community in 2017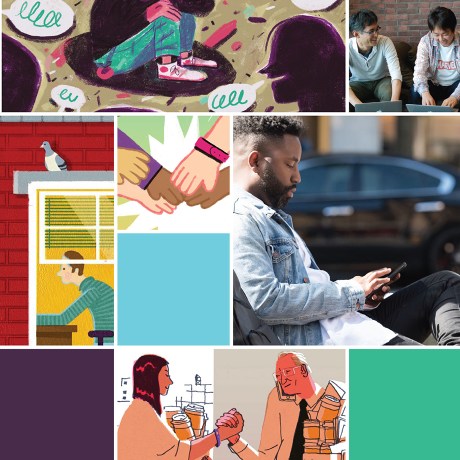 To make people's lives simpler, more pleasant, and more productive, we at Slack have to understand how people work together, how they'll work in the future, and how they find meaning and identity in what they do. In addition to reporting on our product and people, Slack's editorial team explores these ideas on our blog and podcast, and we learn a whole lot in the process.
Before putting this eventful (to say the least) year behind us, we thought we'd revisit some of these insights from stories we published in 2017, particularly the lessons about communication and collaboration that can help people do more together as the earth heads back around the sun.
Among many things, we learned that:
1) Friendship and human connection can be critical to job performance and satisfaction.
Having a best friend at work can help you do your job better, while feeling left out can be as detrimental as being harrassed. Also, hiring a friend can have some real benefits — as well as real risks.
2) Building an incredible team takes a lot more than finding the right people.
NBA superstar and entrepreneur Andre Iguodala explained how trust on a team is as important as talent, and MIT Media Lab director Joi Ito gave great advice on how to lead a team through change with long-term vision. We shared how we support and celebrate our own teammates in Slack, and got some great ideas for team offsites that make real impact.
3) Remote teams are the future, and the focus of a lot of new tools and businesses.
We met the founders of NomadProjects which connects people all over the world to turn side passions into real products, and Deskpass, which is evolving the concept of coworking for roaming workers. We also looked at all the ways that Slack shortens distances between members of dispersed teams.
4) Meetings are important, but sometimes there's a better way.
GV product partner Ken Norton talked to us about how to improve company culture with meetings that don't suck, and we looked into how to spend more time working and less in meetings by moving some of those key interactions into Slack.
5) The people you collaborate with in the future might be bots.
We rounded up five automations that have increased jobs and helped human workers instead of replacing them, and Slack product lead Buster Benson explained how the role of truly helpful bots is to create efficiencies by joining conversations you're already having. We also learned about projects that are making it possible for non-coders to build custom bots to automate tasks.
6) Design can play an important role in communication and inclusive work culture.
We talked to Jessica Bellamy, whose design studio GRIDS helps community and social justice organizations use smart visuals to communicate with the populations they serve, as well as Jenifer Daniels of Colorstock, whose mission is to authentically represent the workforce as the first stock photo marketplace featuring only people of color. We also had a conversation with Slack's Accessibility Product Manager George Zamfir, who explained how his team approaches designing Slack so that everyone can use it.
7) Bringing together team members from different disciplines and generations can have surprising benefits.
Our podcast Work in Progress featured a retired executive who went back to work as an intern, and the lessons he taught and learned from his much younger colleagues. And pioneering programmer and author Ellen Ullman explained how code and algorithms need the humanities to make the most of curiosity and break down bias and inequalities.
8) Building healthy communication at work means building a culture of listening.
We learned that a key to the success of Japanese mobile company DeNA is organization-wide transparency and encouragement to speak up regardless of role, and that Rodney Williams built Lisnr, the world leader in data-over-audio technology, on a foundation of deep listening and a culture where sharing and challenging ideas are equally important.
We have a lot more to explore in 2018, so follow along on Twitter @slackstories and have a happy, restful new year.
All the best from our team to yours,
Slack Editorial