The year in stories at Slack
Catch up on our favorite pieces of 2016, from productivity tips to surprising career inspiration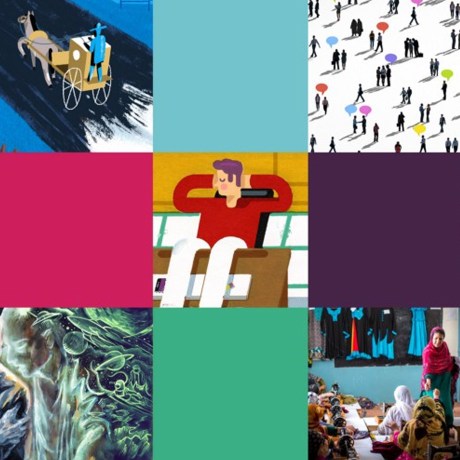 Two thousand sixteen, you sure were a year. Between consuming our fair share of hard-hitting headlines, we here on the Slack editorial team wrote some words of our own — 73,947 on our last tally — for your learning pleasure. We relaunched the blog Several People Are Typing and podcast Work in Progress with a mission not only to report on Slack's product and people, but to explore how people work now, how they'll work in the future, and how they find meaning and identity in what they do.
We picked out some of our favorite pieces from 2016 to, we hope, help you think about some things that might be noodling around in your mind as the year winds down, and a new one begins.
Behold, the year in Slack stories. Or, more simply, some things to read and listen to when and if:
1. You're worried that one day, robots will be able to do our jobs better than we can
It's hard for the human ego to accept a technological advancement that we perceive to question the very value of our existence. Our Q&A with Wired co-founder Kevin Kelly offers reassuring optimism that robots won't replace human ingenuity, they'll supersize it. Science-fiction author Robin Sloan agrees — in fact, he built a bot to be his writing partner, which he says inspires, not replaces, his creativity.
2. You relish in interesting bits of little-known history
Here are two: 1) The first Toronto taxi company was founded by Thornton Blackburn, a former slave who fled Kentucky on the Underground Railroad, eventually landing in Toronto, where he found freedom driving a four-person horse-drawn carriage. 2) A 17-year-old female baseball pitcher struck out Babe Ruth AND Lou Gehrig — back to back — a truly inspiring story of "Breaking New Ground," which you can listen to here.
3. You expect more from your business software than "Bug Fixes and Minor Improvements"
Every word is an opportunity to make the experience of software a little more human — which is why we labor over release notes, document the tenets of human-to-human writing (is there any other kind?) in a company and product style guide, and pay great attention to the what, why, and who cares of how we tweet.
4. Something's not working, and you want to yell at us about it
Just kidding, we hope you don't want to yell at us. But the Customer Experience team is the biggest team at Slack for a reason. Learn about how our Customer Experience team works together to make sure people using Slack know there's a human in their corner, and how one agent approaches her job with compassion.
5. You're curious about different ways that real live humans use Slack
Our customers do so many amazing things every day that we could never collect all of their stories, but that doesn't mean we can't try. Read about how boutique UK real estate agency Deighton Mackenzie won awards for changing the way they worked with home sellers, how ecommerce platform Shopify educates customers, how a Hyperloop team reimagined the future of transportation, and how Mercy Corps is making progress in Afghanistan. (Are you a Slack customer with a story you'd like to share? Give us a ring for a chance to be featured on our podcast.)
6. You could use some advice on how to communicate better at work
What could go wrong? So many things. You're not alone in wishing you could get your ideas across more effectively. For example, interviewing for a job is hard, but asking the right questions might be even harder, so try these unconventional interview questions. Learn about why editing your work is so important from Comma Queen Mary Norris. Embrace good emoji etiquette and these nine perfectly reasonable reasons to use emoji for business. Figure out how to choose the right medium for your message (there are so many now), and learn about when it's useful to really tell it like it is from Radical Candor author Kim Scott.
7. You're thinking about ways to generally be good to and work well with other people
Humans have seen some things this year, and community is as important as ever. At work, home, or in the world, there are lots of everyday ways to raise the bar on courtesy and cooperation. If you're feeling the isolation of freelancing, learn how to build your work community from author Courtney E. Martin. If you're thinking about how to be a better partner, read about how Haley and Simone Jude figured out how to work together as spouses and co-owners of a business. Meet comic book creators Jeff Parker and Tom Fowler, who have perfected their system of courteous creative collaboration. Learn how to have empathy for coworkers who might be running on fumes while fasting during Ramadan. And for a story that made more than a few of us ugly-cry, find out how former corporate recruiter Margo Walsh found peace and meaning in helping people in recovery.
8. You just want to do more better, in and out of Slack
There's a big boatload of work to do in 2017, so unplug with with these non-apps to boost creativity, and make habits work for you instead of against you with advice from author Gretchen Rubin. If you use Slack, take control of your notifications by customizing them, psychoanalyze your sidebar personality, and master searching to find what you need right away.
9. You need ideas for an unexpected new career
Whether you love your job or are desperately searching for a new one, it's always inspiring to read about the lengths (and depths, and heights) that people will go to for their work. Read our story about a guy working as a geologist on a drilling rig in the middle of nowhere, or about the many challenges of being a third-generation funeral director. Marvel at the fearlessness and resilience of family circus troupe The Flying Wallendas, get inspired by the unlikely career switch of a policymaker-turned-florist, or take some quiet alone time with our photo essay from the sole winter caretaker of Yellowstone National Park.
10. You're thinking a lot about workplaces that are accessible, inclusive, and welcome your whole self
Since our launch almost three years ago, Slack has been committed to helping to change the culture of Silicon Valley that can be unwelcoming to many people. A big part of that is transparency and accountability, which is why we've released two Diversity Reports, most recently in February, with the understanding that we still have a lot of work to do. Here on the blog we've also highlighted organizations that are taking creative, forward-thinking steps to be places where everyone can thrive. The Lighthouse for the Blind in San Francisco is a model for accessible, inclusive workspace design, while Vancouver startup Bench has developed a mental health guide and network designed to combat stigmas around stress at work. And QA firm Ultra Testing, whose workforce includes 75% people with Asperger's Syndrome, makes a strong case in favor of hiring for neurodiversity.
And with that, we'll wish you happy reading and a happy new year. We have a lot more in store for 2017, so follow along on Twitter @slackstories. Be good to each other out there.
To you and yours,
The Slack Editorial team