Unusually Slacky: Slack for the (mostly) screenless
We hear a lot of interesting stories about the way people use Slack. People sitting in front of screens all over the world are adapting the thing we built…
We hear a lot of interesting stories about the way people use Slack. People sitting in front of screens all over the world are adapting the thing we built in incredible ways we never imagined.
Or, in this case: People not sitting in front of screens. In this Unusually Slacky use of Slack: two offices separated by 9,000 miles, and where a lot of the team are never in front of laptops or phones at all…
Slack for the (kind of) computer-free team
Printful had a problem, explains Julia Gifford, their Head of Content: Communication was stilted between their two offices, one in California, the other in Latvia. Since the employees in California mostly deal with printing and fulfilling orders, communication was usually difficult — the office in Latvia could never be sure emails would make it to the right person in time.
"So we started to use Slack's API to display inter-office messages" Gifford says. "If you have something important to say, you write it in Slack. We created a "monitor" channel, and accessed that channel via API. We push every message to the monitor that we have in both offices."
"Because of the way the API supports webhooks, messages are instantly displayed. We were able to get our screens up and running in a day, which says good things about the quality of the Slack API documentation."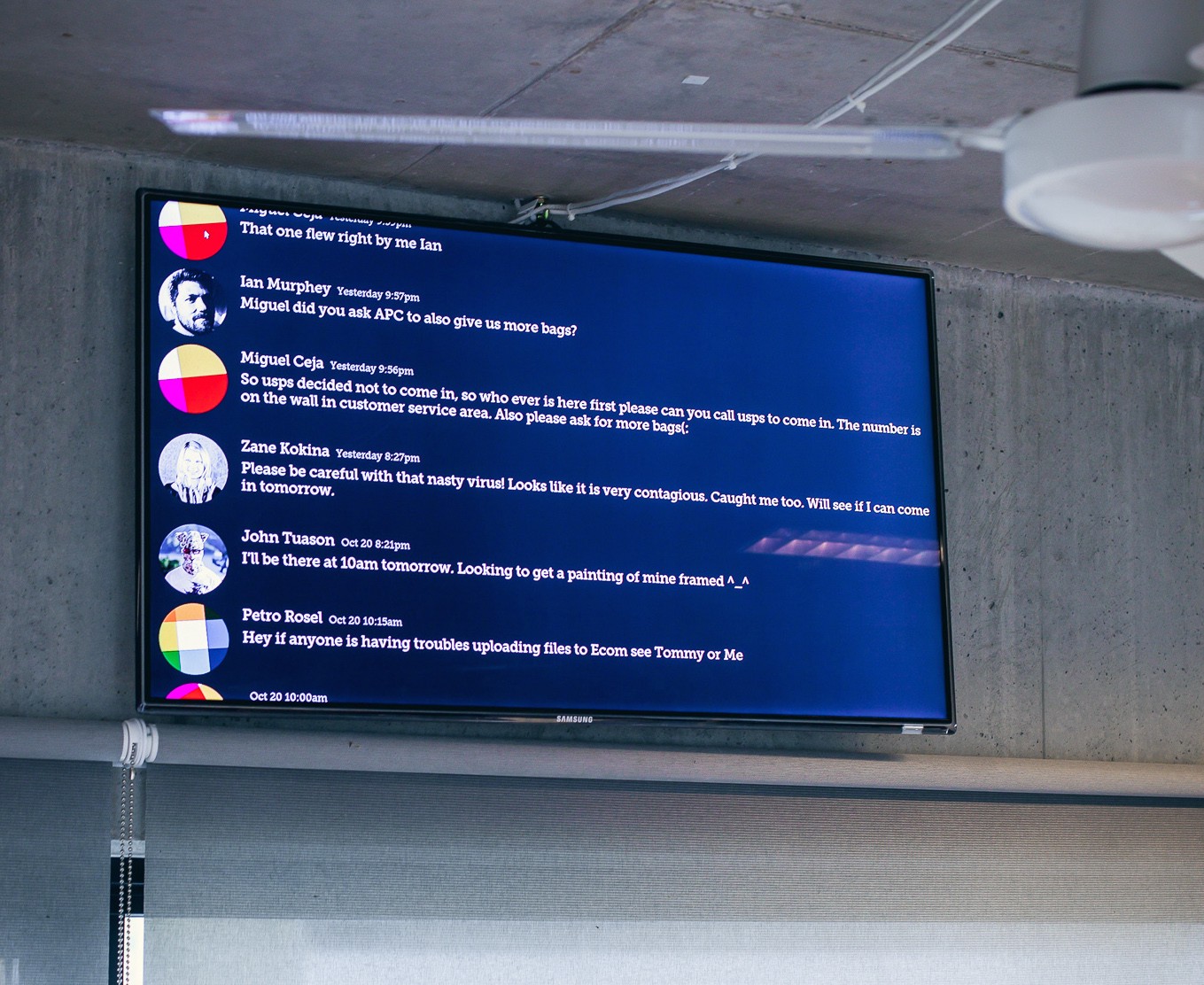 If people aren't at work that day, or if they get sick, or are running late, they leave the info on the monitor — that way, everyone knows why they're not responding to questions. And people in the California offices, usually standing in their printing stations, are able to stay up to date on the most important company info just by looking up.
And it's gone down so well that people are breaking out into new channels: "One of the challenges of having a team split up between two continents is that we don't get to see each other very much, which means a sort of dehumanization between the offices." Gifford says. "With our social channels, we can interact and share what's going on with us. It's bringing the team closer together."
So there we have it: Unlike many companies who use Slack, Printful started big and got smaller (in terms of screen size, at least.) Brilliant.
---
Does your team have an interesting or unusual way of using Slack? We'd love to hear from you. Email our editorial team at stories@slack-corp.com