Inside Wayfair's pivot to remote work with Slack
How the home goods retailer relies on Slack to bolster company culture and keep teams connected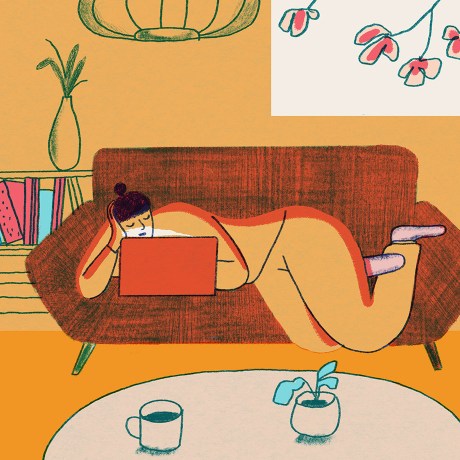 This story is part of an ongoing series exploring how organizations are supporting remote work during the Covid-19 crisis. We hope these stories provide actionable tips and inspiration that organizations can use to make this transition a little bit smoother.
As an online retail space, Wayfair lets customers browse more than 18 million home items across furnishings, decor, home improvement, housewares, and more. As many people in the world shelter in place during the coronavirus outbreak, Wayfair is committed to serving visitors who are looking to adapt their living spaces into home offices, classrooms and more.
Kristin Geyer, Wayfair's global head of internal communications, says operating in the middle of a pandemic means keeping teammates connected and engaged.
"Regardless of location, our team constantly goes above and beyond to create a positive experience for our customers," Geyer says. "It's been great to see everyone come together and continue to support that mission during this time."
To that point, Wayfair's office teams in Boston, Berlin and London have gone all-in on all-remote work for the first time since the company's creation. Below, Geyer explains how Wayfair made the transition with Slack, the channel-based messaging platform.
"With our teams working remotely at this scale, we've leaned on tools like Slack more than ever. We use Slack channels to share frequent reminders, policy announcements from local and national officials, and helpful tips for staying safe."

Kristin Geyer

Wayfair's global head of internal communications
Pivoting to remote meetings and channel-based messaging
Wayfair had to make quick decisions to keep its employees and communities safe as the pandemic spread. On March 12, Wayfair ran a companywide work-from-home test to identify potential pain points, and on March 16, all corporate employees began to work remotely.
Wayfair was already accustomed to communicating in Slack channels, a single, digital space for multiple people to share messages and files. When the company went remote, exchanges and meetings that would've normally happened in person swiftly moved into channels.
"With our teams working remotely at this scale, we've leaned on tools like Slack more than ever," Geyer says. "We use Slack channels to share frequent reminders such as what equipment to bring home, the latest policy announcements from local and national officials, and helpful tips for staying safe, healthy and comfortable."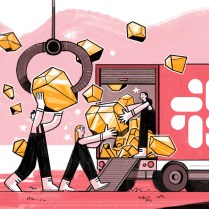 Get the most out of Slack
Work is smoother with better collaboration. Learn how you can upgrade your plan for more powerful features and integrations.
Contact sales
Creating alignment with global stand-up meetings in Slack
In addition to providing a space for multiple teammates to send files and messages, Slack channels are searchable and participants can create threads to organize discussions. If the exchanges become too chatty, participants can choose when to get notified or mute activity. According to Geyer, these features have made it easy to move daily and weekly stand-up meetings into channels.
"It's been great to see the creative ways that teams have used Slack to stay closely aligned and maintain dialogue," Geyer says. "Teams that held in-person status updates are now conducting those stand-ups in Slack channels. It's a great way to make sure that there's no sacrifice in transparency while everyone is in different locations."
Wayfair also created a newsletter shared with employees in the #announcements-global channel which features company-wide updates, including:
Helpful technology tips, such as how to use your TV as a second monitor
Resources like Wayfair's employee assistance program for workers struggling in this uncertain time
Forums for leaders to share career development advice that employees can embrace while remote
Wayfair also increased the frequency of its executive #ask-me-anything Q&A sessions from monthly to biweekly.
Make the most of all-remote meetings and stand-ups
Online meetings require just as much planning as physical meetings to keep conversations on track and productive. Here are five tips from our ultimate guide to remote meetings on how to organize them.
1. Choose the right meeting tool for your team
Not all online meeting tools are created equal. The IT department's go-to platform for virtual meetings might not work for the sales team, and vice versa. While most teams benefit from an online meeting tool that has both video and audio functionality, consider your team's specific needs before choosing a tool.
2. Create a virtual common room to introduce new teammates
Conversations can feel stilted when teammates working in the same channel haven't met in person before. Create opportunities for distributed teammates to get to know each other before collaborating.
3. Be mindful of time zones and schedules
It might take some adjusting if you've never worked with global teammates before, but it's best practice to look up colleagues' schedules before putting an online meeting on the books. You don't want your teammates to feel obligated to log in after hours to attend your sync.
4. Set an agenda
Online meetings can go as off course as physical meetings without proper planning. Set an agenda that includes key talking points, meeting structure, what each team member is responsible for bringing to the meeting, and any relevant documents, files or research.
5. Give everyone a job
Assign roles like notetaker, moderator and presenter to keep participants engaged and contributing to the conversation.
Strengthening the Wayfair colleague community
Geyer stressed that working in Slack channels does much more than simply boost productivity: Channels also help teams maintain a sense of community.
For example, Wayfair's #wellness-at-wayfair channel promotes various health and fitness tips for maintaining a healthy mind and body while working from home. Parents and caregivers have also created channels where they post about the ups and downs of working from home with a full house.
For organizations like Wayfair that are going remote for the first time, Geyer recommends keeping an open mind and experimenting with the tools in your tech stack. She stresses that when in doubt, err on the side of sharing more information with your colleagues.
3 easy ways to support company culture online
Just because your organization is all-remote doesn't mean you have to throw culture and team traditions out the window. Take a look at these three tips for nurturing team culture when offices close.
1. Keep those regular coffee breaks
When you're working from home, it's easy to keep chugging along without taking the coffee breaks we often have in an office setting. Schedule coffee breaks with your work friends or try out the Donut app, which pairs two people in a Slack channel for a virtual coffee chat.
2. Play a virtual game in a Slack channel
Virtual games are good alternatives for people who want to connect with teammates outside of a happy hour-style gathering.
3. Maintain regular meetings to keep the lines of communication open
Don't skip those 1:1's—convert them into online meetings on Zoom! Team leaders can also host hourlong virtual office hours so that people can join to ask questions or chat when needed.