Collaboration can be challenging in many workplaces, with everyone diligently tuned in to their own tasks and duties. Marketers are especially feeling the crunch. According to a report on the state of marketing work by Workfront, 98% of marketers experience some kind of conflict with other departments, groups, and teams.
It's also tough for marketing teams to stay coordinated in and of themselves, given the breadth of specializations and functions that need to come together to create top-notch work on deadline.
To get a grasp on the big picture when it comes to marketing team collaboration — the successes, the bottlenecks, and the opportunities for improvement — we rounded up the latest data from several reputed sources.
Here's where marketing collaboration stands in 2018.
Marketers see room for improvement with workflow collaboration
56% of the most successful marketing organizations rate the project management flow during their content creation process as excellent or very good, compared with only 11% of the least successful. (B2C Content Marketing 2018 Benchmarks, Budgets, and Trends)
Workflow collaboration issues stem from lack of organization
42% of content marketers point to staying organized as a top challenge. Another 36% say they struggle to gather multiple team members for planning sessions. (Content Planning Challenges, Trends & Opportunities)
The biggest barrier to collaboration? Everyone is busy
More than half of marketers (58%) say they're "too busy" for content collaboration. Another 15% say they don't have a culture that supports it. (Content Planning Challenges, Trends & Opportunities)
High-performing marketing teams rely on heavily coordinated efforts
Delivering a consistent and connected customer experience is what's expected of today's marketing teams. To do so, specialized teams within marketing must coordinate across functions (e.g., social media, email, website, product, brand), but this only gets harder when you consider that each team might use different tools and have distinct communication preferences and processes. The more variables to account for, the more difficult it becomes to coordinate work.
High-performing marketing teams are 12.8x more likely than underperforming ones to heavily coordinate efforts between touch points. (Fourth Annual State of Marketing report)
Inter-team conflict is costly
What about coordinating with teams outside of marketing? Out of necessity, marketing teams continue to become more closely intertwined with other departments and business units such as sales, customer support, engineering, and other stakeholders.
We mentioned earlier that Workfront's report shows 98% of marketers saying they experience conflict with other departments, groups, and teams. Where is this conflict coming from? The most commonly cited causes include conflicting priorities (39%), lack of communication (31%), and a lack of understanding about urgency (14%). (2016–17 U.S. State of Marketing Work Report)
What are the consequences of team conflict?
Among the most frequently reported are lost productivity (37%), missed deadlines (22%), and lost confidence in other teams (20%). (2016–17 U.S. State of Marketing Work Report)
Lack of collaboration between sales and marketing hurts B2B organizations where it matters most
The majority of polled professionals said lack of alignment and collaboration between sales and marketing leads to weaker financial performance (60%), poorer customer experience (59%), and reduced customer retention (58%). (The Payoffs of Improved Sales & Marketing Alignment)
However, marketers at B2B organizations who exceed revenue goals are 2x more likely to participate in customer and prospect meetings than those who miss revenue goals. (2016 B2B Sales & Marketing Collaboration Study)

62% of marketers say wasteful meetings get in the way of their work. The second most prevalent culprit is excessive oversight (51%), followed by excessive emails (48%) and a lack of standard processes for workflow (33%). (2016–17 U.S. State of Marketing Work Report)
And you probably won't be shocked to learn that 45% of employees generally feel overwhelmed by the number of meetings they have to attend every month, which adds up to more than 60 meetings per month on average, or about two per day. 47% of employees complain that meeting volume is the number one time-waster at the office. (You Waste a Lot of Time at Work [Infographic])
So much work to do, too little time to do actual work
After getting all their emails and meetings squared away, marketers say they have only 38% of their time left for their primary job duties. (2016–17 U.S. State of Marketing Work Report)
It's clear that marketing teams understand the value of collaboration but sometimes get bogged down with conflicting priorities, an overabundance of meetings, and searching for critical information spread across a smorgasbord of sources. Effective coordination, unsurprisingly, drives higher efficiency and greater organizational success.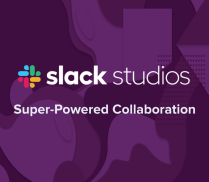 Join us at Super-Powered Collaboration: Atlanta
Are you ready to take team communication to the next level? Slack's series on all things collaboration is returning this fall—catch us in Atlanta on September 25.
Learn More
IDC research on the Business Value of Slack found that marketing teams using Slack execute campaigns 16% faster and spend 8% less time getting them launched. See how Slack eliminates unnecessary meetings and emails, improves cross-team communication, and boosts overall marketing collaboration. Create a workspace for your team, and make up for lost time.