Jackson Hole Wildlife Safaris: Where the wildlife sightings are
How guides at Jackson Hole Wildlife Safaris use Slack channels to give guests the experience of a lifetime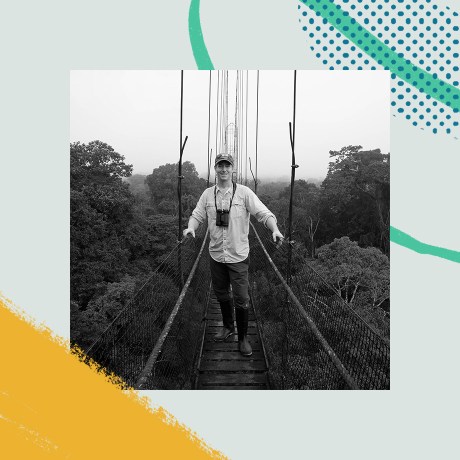 Wilderness guides at Jackson Hole Wildlife Safaris will chase migrating elk, buffalo, deer, moose, and legions of other wildlife for hundreds of miles through the valleys of Yellowstone and Grand Teton National Parks to provide guests with the best photo opportunities. "There's a lot of ground to cover," says CEO and founder Jason Williams. "There's no way to know it all."
To capture all this action, Williams relies on each guide's personal expertise and knowledge of the land. "Every day, every trip, is totally different based on the season, weather conditions, how long the trip is, and what our clients want," he explains.
But tracking the unpredictable movements of wildlife means that the team's planning processes are routinely in flux. Communication in the workplace was once compartmentalized into texts, calls, handwritten notes, and emails. "Guides would share their wildlife sightings with each other either by text or verbally, which was clunky at best," Williams says.
Even basic things like coordinating schedules for Jackson Hole Wildlife Safaris were made more challenging by the fact that head office staff were distributed across a main shop, four home offices, and the hotel garage at the Four Seasons Jackson Hole (where Williams also runs an in-house naturalist program). Meanwhile, tour guides were often in the field for days on end with any of the 20 vehicles in the fleet.
"Slack channels have opened our lines of communication across the team," Williams says. "Now all our wildlife guides can find out what's happening in another area and still contribute to a company-wide conversation."
Share sightings and tame misunderstandings with Slack channels
Williams says that looking at the team's Slack channels — public and private spaces within Slack where groups of people can collaborate and share files — allows him to have "a finger on the pulse" of everything that's happening with the team across two states, two national parks, and several mountain valleys. Here's a look at how the scattered team of experts at Jackson Hole Wildlife Safaris use public Slack channels to share everything from weekly schedules to spontaneous elk sightings.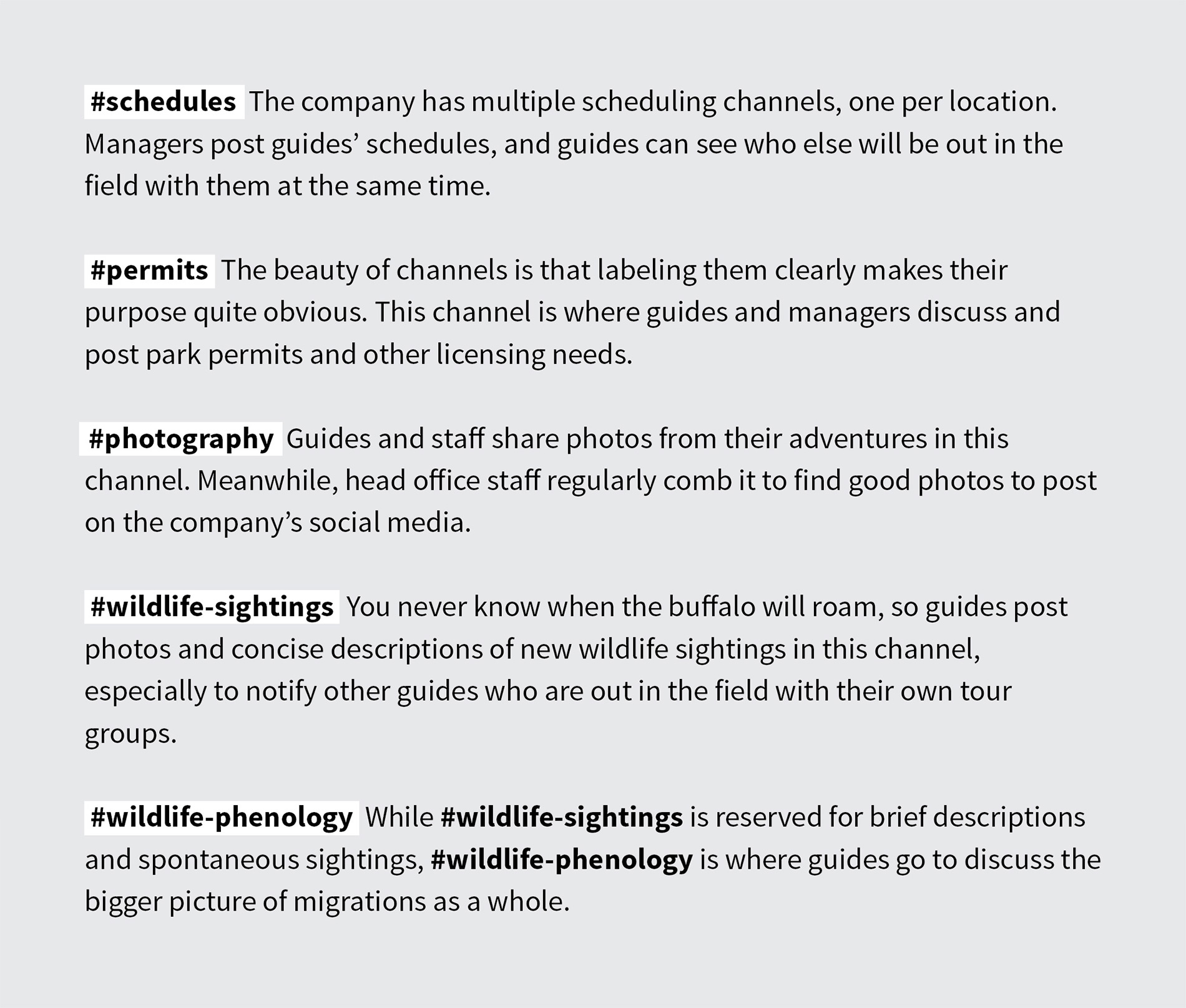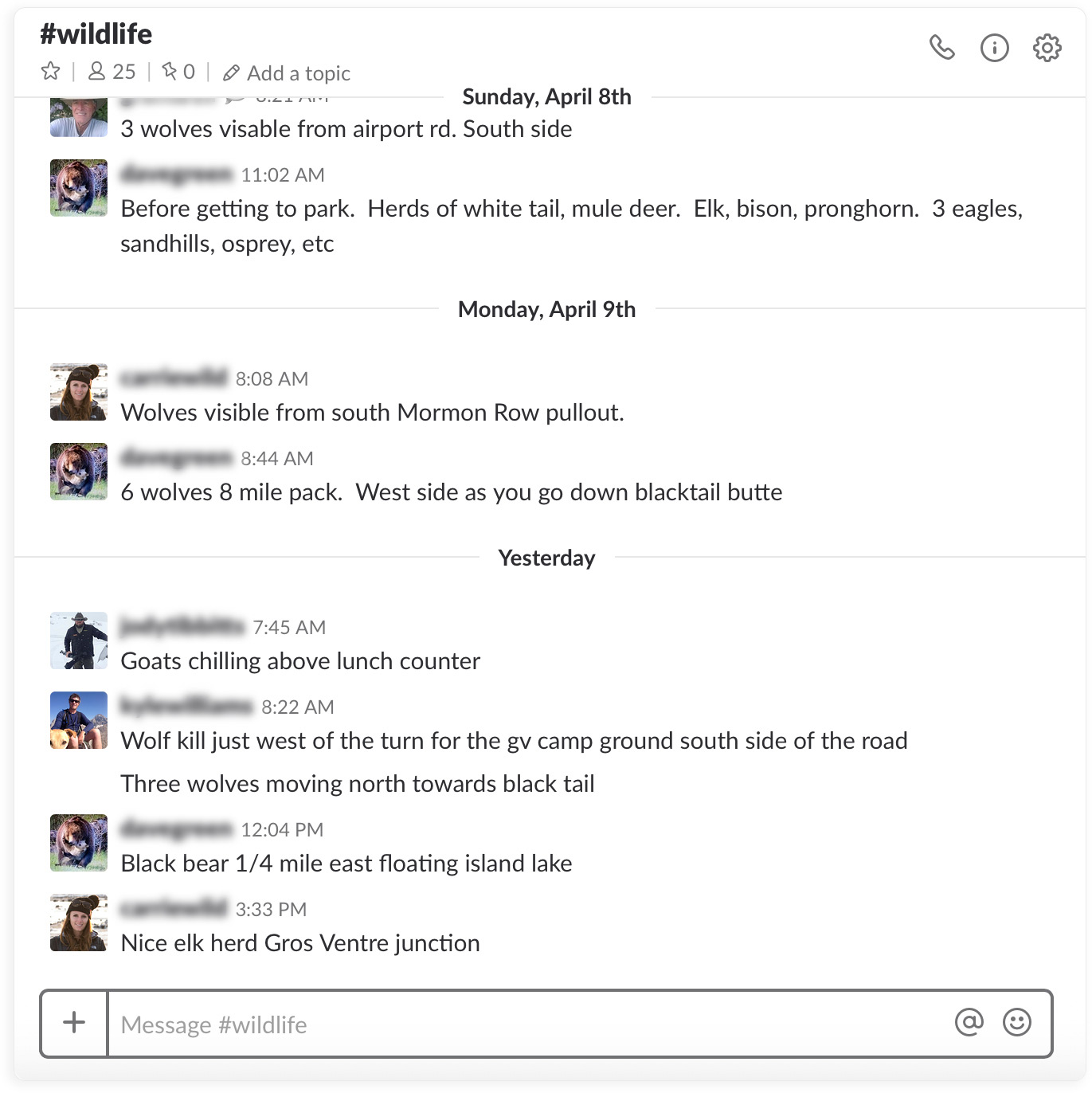 The only channel Jackson Hole Wildlife Safaris has set to private is the office channel, where managers discuss day-to-day logistics that aren't relevant to the majority.
Williams is a big believer in transparency, and although he admits that it felt slightly uncomfortable to share so much about operations with staff at first, he's come to believe that it's a great way to build trust with the team.
"Working in channels has really eliminated a large portion of our misunderstandings," he says. "Everybody sees who's doing what — who's driving what vehicle, who's on what itinerary — and so if anyone has any questions, they know the answer they get is based on facts."
How Jackson Hole Wildlife Safaris tracks seasonal wildlife and plans tours using channels
Williams says that being disciplined about the purpose of channels and how they're organized has helped individual team members learn how to communicate more clearly over time. And the archive of knowledge they've built over the years in Slack now helps them plan upcoming tour packages. "We'll go back through a channel and search for an animal so we can see when it came out of hibernation the year before," he says.
But for Williams, connecting the company's in-house wildlife experts has proven to be more than just a logistical win for the company. "The real advantage of Slack is the team-building aspect," he says. "We're seeing an incredible amount of collaboration in the field. And the sharing and archiving of wildlife sightings allows us to bring our guests to the best places in the region, and effectively impassion them to support conservation and the protection of the places we love here in Jackson Hole."