Where Work Happens Around the World
An update on how teams everywhere are using Slack to do great things
Millions of people across nearly every industry — from Fortune 100 companies to thriving neighborhood restaurants — are turning to transparent, centralized communication, and bringing all of their work into one place on Slack.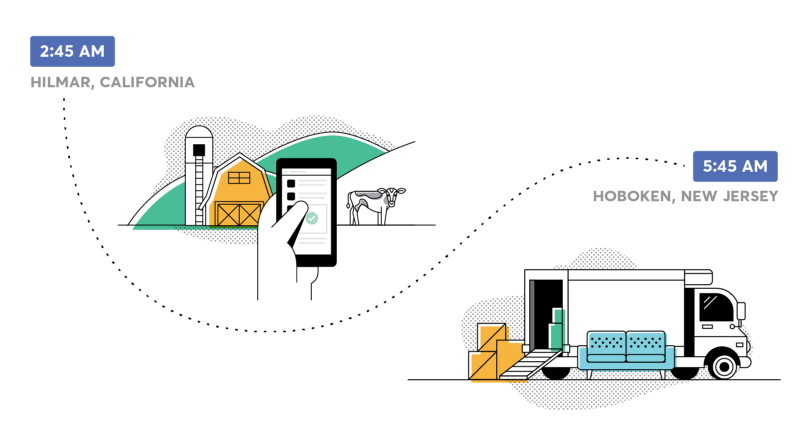 It may be 2:45 a.m. in Hilmar, California, where the dairy farmers who tend to Wickstrom Jersey Farm's lush thousand acres rise to begin the day's work. First, they check their Slack channels for a single view of all functioning and malfunctioning equipment on the farm — like the ever-important manure separator. (Last update: intact. Thank goodness.)
Meanwhile, it's 5:45 a.m. over in Hoboken, New Jersey, where — thanks to a few superhero-themed custom Slack bots — more than one thousand Jet.com employees are able to find the latest information on the price, quantity, and location of millions of products in Jet.com's inventory. From regional offices to warehouse floors, laundry detergents to loveseats, their logistics depend on Slack.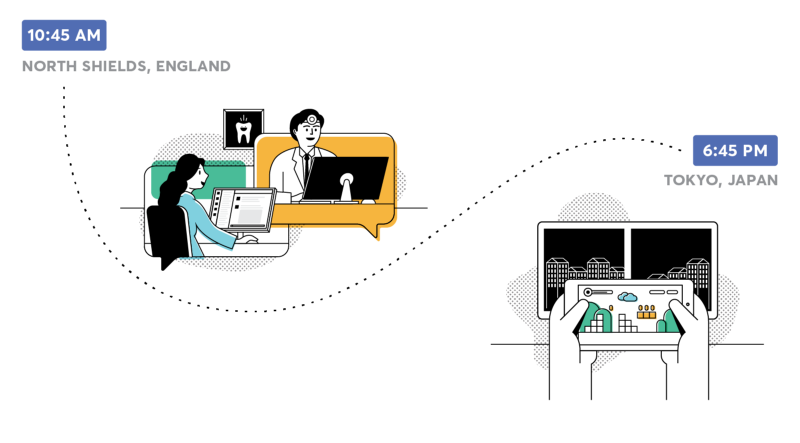 Across the Atlantic, it's 10:45 a.m. in North Shields, England, where the nurses and administrative staff at Ewan Bramley Dental Care are busy discussing policy and procedure documents in Slack. They rest easier knowing their conversations are secured in a way that meets their compliance requirements.
And in Tokyo, it's 6:45 p.m., where engineers at Japanese mobile gaming company DeNA wrap up their final GitHub pull requests, which they were assigned and alerted to in Slack. They make sure to wish their colleagues in the West a goodnight — whether in words or emoji — before heading out.
All of these teams work hard to meet the world's needs. And today, a lot of their work happens through Slack.
There are many ways to measure Slack's growth around the world that help us tell a story about how people are changing the way they work together. Here are just some of them:
A partial world tour of Slack users
Over the past few months, we've passed several significant milestones. Earlier this summer we exceeded 50,000 paid teams, and 2 million paid users, including 43% of the Fortune 100 companies.
Additionally we crossed $200 million in Annual Recurring Revenue (ARR), more than double the year prior, and more than 9 million Weekly Active Users (WAUs), which is a bit bigger than Austria, and just a little bit littler than Azerbaijan. We also exceeded more than 6 million Daily Active Users (DAUs). And 55% of those users are outside of the U.S., in more than 100 countries.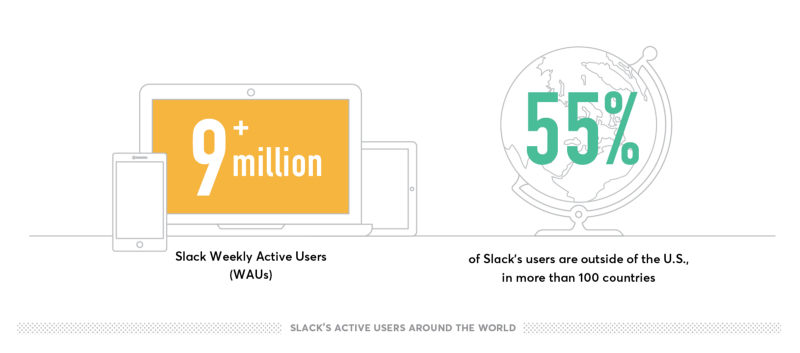 There are more than 330,000 people in Tokyo alone who use Slack, which is three times the number who travel through that city's Narita International Airport every day.
The 196,000 weekly Slack users in London would fill Wimbledon Centre Court nearly 13 times.
If the 82,000 Berliners who use Slack turned up to a game at the city's famed Olympiastadion (Berlin Olympic Stadium) to watch a football match, many thousands of them would be, sadly, stuck out in the rain.
In the U.S., the 420,000 people who use Slack in New York City every week is 105 times the number of people who walk across the Brooklyn Bridge every day.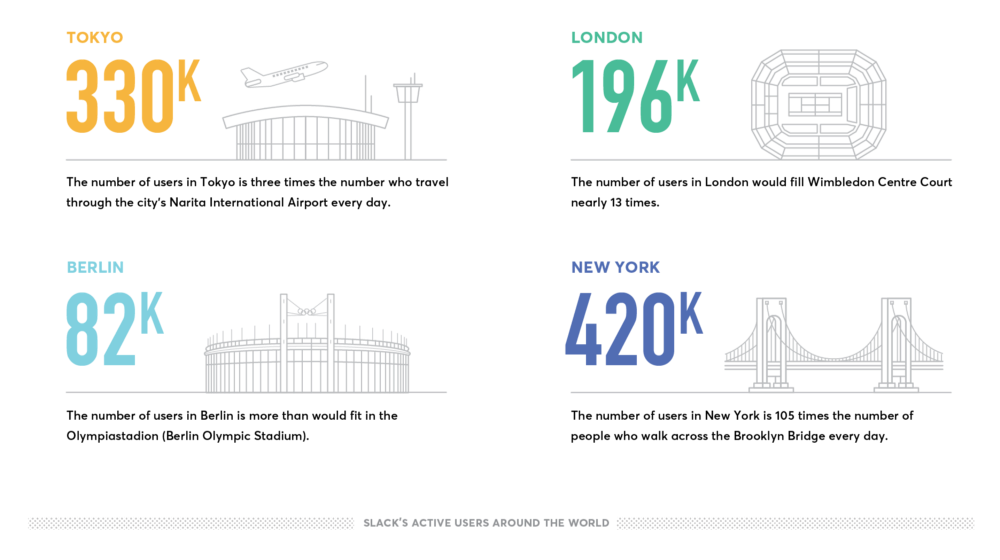 But to fulfill our mission to make working lives simpler, more pleasant, and more productive, we can't just count user numbers. It's the great work people are doing in Slack that counts. And it turns out that's a lot.
Most of the work that happens in Slack involves more than messaging
When we look across our customer base, we find that in aggregate, people spend about 65 million hours per week in Slack. That's a lot of time, and we know every minute counts, so we make every pixel count.
And when we say that Slack is where work happens, it's because people are also doing much more than sending messages. They're completing a wide variety of tasks and connecting the tools they already use to Slack. In fact, our App Directory now has more than 1000 apps, which have been installed more than 8.8 million times. All of this is made possible by our more than 155,000 developers working with us on a weekly basis.
This is because organizations of all sizes are finding value in Slack's paid plans and our Enterprise Grid product — in fact large enterprises on paid teams are our fastest expanding customers. Paid teams in regulated industries are growing quickly as well — year-over-year growth has been 78% in pharma and biotech, 62% in financial services teams, 87% in government, and 74% in hospitals and healthcare.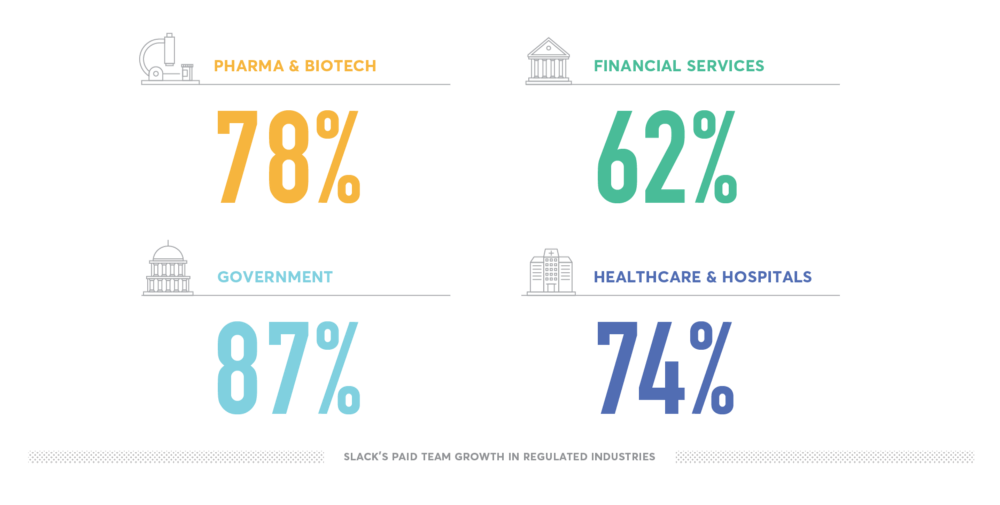 All of these numbers are great, but the true measure of our success is really the success of our customers — and the value we can help bring to them. So whether that work is feeding and entertaining people, keeping people healthy and equipped, or serving other businesses itself, we're honored to be a part of moving it forward.