Who's that guy hosting Slack's podcast, anyway?
A question we answer in this interview with 'Work in Progress' host Dan Misener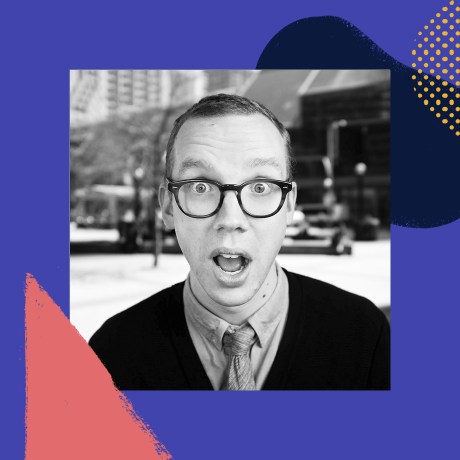 It's midway through the season of Slack's podcast Work in Progress, a show about the meaning and identity we find in work. A common question we get is: Who's the mystery voice narrating the show? Though he introduces himself at the top of every episode, when you think about, just telling someone your name is hardly a real introduction, so here we are.
Dan Misener hails from Halifax, Nova Scotia, where he's entertained a love affair with public radio since he was a tiny tot. On a blustery winter day in Toronto, Ontario, where he now lives and works, we sat down with him to find out a little more about his podcasting history, the kinds of stories he loves listening to, and get a little insight into what it takes to produce an episode as a creative team.
Slack: How did you get into podcasting in the first place?
Misener: I fell in love with audio and radio storytelling at an early age and came up through college radio. I was a volunteer programmer at CKDU, which is the campus community radio station in Halifax, Nova Scotia.
The term 'podcasting' came about in 2004 and really got its first popularity in 2005 when Apple added podcasting to iTunes. I was just graduating at exactly that time. I got a job with the national broadcasting company and was producing radio there for about 10 years, but I was making my own podcasts as side hobbies.
Indie media and making your own thing has always appealed to me and this idea that suddenly the tools to, not only make but distribute great stories, all by yourself, was pretty amazing for someone like me.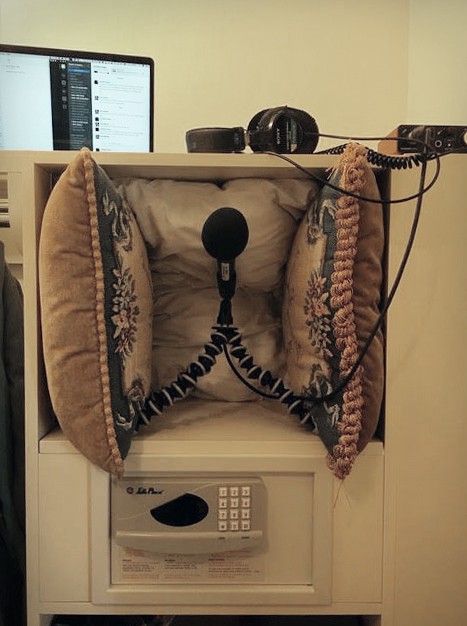 Slack: What is it about audio storytelling that grips you?
Misener: Radio and podcasts have tremendous emotional bandwidth and they have tremendous narrative bandwidth. They don't have huge informational bandwidth. It's hard to deliver a report as a podcast but you can tell an impactful story about somebody's life. You can get a peek inside somebody's work. You can travel somewhere with someone through audio in a way that isn't impossible in other media but really suits the sonic medium.
Slack: How do you and the show's other producers, who each put together individual stories, handle feedback and creative critiques as peers?
Misener: I think having a spirit and culture of candor is necessary, and talking openly about how we work together and making sure that everybody on the team feels comfortable bringing themselves to the table. Because that's why you assemble a creative team, you want to have a bunch of different people who bring their own perspectives. If people aren't speaking up and actively participating, why have a team at all?
I much prefer working on tight-knit teams than larger ones. That dynamic feels very human to me. It's good to work on a team where you know everybody's name and you know what everybody does and where everyone's goal is to make the work better.
It's not about ego and it's not about any one individual person, it's about the product that goes out the door at the end of the day and getting that to the best possible place.
Slack: Do you have a memorable moment about your experience producing a story?
Misener: I did a story a couple of months ago about this guy, Tim Doucette, who's a legally blind astronomer and astrophotographer. He lives in Quinan, Nova Scotia, which is a tiny town of about two hundred people. Quinan is known for how little light pollution there is, it's a very, very dark place.
Honestly, one of the most nerve-wracking moments of my entire life, professional or personal, has been driving down completely pitch black roads in the middle of very rural Nova Scotia to go and meet this guy. There I was in the rental car, no lights, no street lights, signs warning me that animals might be around. Of course, it all ended up being a-okay.
Slack: What do you hope for the future of podcasting? Where do you see things going?
Misener: A lot of radio is live and has to be recorded to time in the moment, the beauty of a podcast is that it's pre-recorded. You get to edit a story afterwards. You can spend time with a person and you can dig a little bit for some of those details or stories or anecdotes that you might not ordinarily get if they were sitting in a radio studio and they knew they had six and a half minutes to tell their story. I think we have a lot of podcasts right now that resemble very good radio, but I can't wait to hear more podcasts that continue to explore the medium.
---
Lima Al-Azzeh 's favorite podcasts include 'The World in Words', 'Call Your Girlfriend' and the classic '99% invisible'.