Why a best friend at work can help you do your job better
Sometimes it's ok, even essential, to mix the personal and professional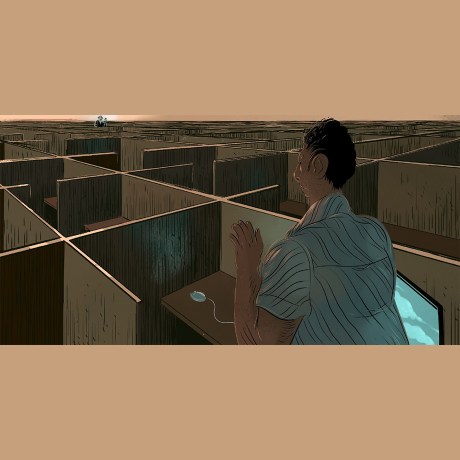 Two decades ago, I impulsively took a job a thousand miles from home, to work as an American Sign Language interpreter for a deaf student in Annapolis Royal, Nova Scotia, a town of 470 people. After moving all of my belongings on ten days' notice, I found myself sitting paralyzed in the staff room of the smallest high school I had ever seen.
Suddenly, a woman with a giant smile and long brown hair popped her head in the door and said "Hi! I'm Michelle! I'm the art teacher! I live across the river! We'll talk later, I just wanted to welcome you!" By the end of that week we were best friends.
I truly don't think I would have survived those four years without our friendship. More than once I stormed into her classroom, ranting about a teacher's refusing to turn on the closed captions so the student could follow along with a movie. Michelle would put us both in her ancient Toyota Corolla to look for sassy jumpsuits at the nearest thrift store. On those adventures, we would brainstorm first elaborate revenge, and then more practical solutions to the challenges at hand.
There is a reason that friendship made such a difference to me. A recent study by OC Tanner found that 75% of people who have a best friend at work feel able to 'take anything on,' compared to 58% of those who don't.
Having a good friend at work makes people feel more valued and appreciated, and leads to greater productivity and sense of belonging. And when things don't go perfectly, the emotional support of a close work friend can help people address problems more constructively.
That need for camaraderie only increases as you gain more responsibilities and presumably have less time to spend developing new close relationships outside of work; 78% of executives reported having their best friend at work, higher than any other job level.
To learn about how this has played out in others' careers, I spoke with people in various fields who found a best friend at work. What they all had in common was a grounding effect — a relationship that offered perspective and personal investment when challenges mounted.
Lindsey Miller and CJ Murphy
When Miller began working as a fundraiser for a politician up for re-election, she met Murphy, a formidable woman 30 years her senior who had helped countless governors get elected.
"One day I walked by her office and she asked me 'How is your day?'" Miller explains. "For whatever reason I answered honestly, telling her all about struggles I was having with my family. She got up, shut her office door, and we had a three hour heart-to-heart. That was eight years ago, and we have been inseparable ever since."
Things can get pretty hectic in electoral politics, but Murphy made sure Miller stayed calm on the job. "If there were ever high-stress events, CJ would call me" says Miller. "The first words out of her mouth would be 'don't panic' our little code from Hitchhiker's Guide to The Galaxy. That meant something was definitely wrong, but we would find the solution together."
Chris Dart and Megan Ann Wilson
Working in the often volatile world of sports media, Dart and Wilson initially bonded over superficial shared tastes, but quickly became each other's emotional support in a workplace where Dart says "yelling was the new talking."
Eventually, the way Wilson was best able to support Dart was actually in convincing him their shared workplace was untenable.
"I think the challenge Megan helped me the most with was leaving," Dart explains. "When you're at a place that burns that hot, it kind of takes over your life. Megan left a few months before me, and having her there to guide me through that shock was crucial."
Sara Pellerin and Sally Gaal
Some people get really lucky and meet their career soulmate early in life, becoming something of a package deal in the job market. Pellerin and Gaal are currently co-workers for the fourth time, since their first job together in a toy section of a department store.
"When I was feeling overwhelmed by the sheer volume of work at one point, Sally spent one of the last days of her parental leave helping me work through the backlog," says Pellerin. "It meant so much that she would sacrifice that personal time in the name of helping me succeed. That isn't something any other co-worker would have done."
---
When I hear Pellerin and Gaal's story, I admit to being kind of jealous at their ability to find so many tandem jobs. My own career has taken me to different cities and workplaces every few years, so I had to eventually say goodbye to Michelle in Annapolis Royal. And later Karen in Ottawa. And then Marcie in Toronto.
But not everyone shares my vagabond ways. Murphy recently sold Miller and her husband the plot of land next to her own home, so they could build a house there and be neighbors forever. Miller could not be happier.
"We always say the best thing we got from those jobs were each other."
---