Work in Progress
A podcast about the meaning and identity we find in work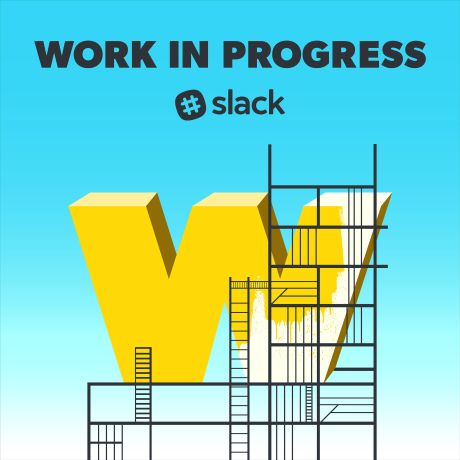 A cab driver (who escaped enslavement on the underground railroad). The owner of a Jewish appetizing store (who quit being an engineer to join the family business). Some guy on Snapchat (who turned it into a career).
Behind every working human,
there's a story.
Work in Progress is Slack's new podcast about the meaning and identity we find in work. Join host Dan Misener for stories of personal ambition and debilitating insecurities, great successes and abject failures, the plans we make and the luck that…happens.
Every weekend, you can listen to a new Work in Progress episode on Sirius XM. Episodes are available the following Mondays on Apple Podcasts, Google Play, and through apps like Stitcher.
What's Slack, you say?
Glad you asked! Slack makes an app that helps teams at companies, big and small, communicate and do their work in a more transparent and productive manner. We're a global company working seamlessly across our offices around the world, and it's our goal to help others do the same.
Why did we make this podcast?
In short: Because we make software for working people, we're genuinely fascinated by work, how work is changing, and how the nature of how we think about ourselves as working people is also changing. What you do for a living means a lot—to yourself, and to others. This podcast, along with the stories produced by the Slack Editorial team for our blog, explores this very theme. Our hunch—and hope—is listeners and readers will relate to a lot of these stories, and find them useful and interesting when reflecting on their own life's work. Read the long answer here.
Listen on Apple Podcasts, Spotify, Google Play and wherever you find podcasts.
EPISODE THIRTY-FOUR | BEGINNINGS
EPISODE THIRTY-THREE | AGE OF AQUARIUS
Listen to Episode 33:
EPISODE THIRTY-TWO | FROM THE GROUND UP
Listen to Episode 32:
EPISODE THIRTY-ONE | THE NEXT ACT
EPISODE THIRTY | STOP THE PRESSES!
Listen to Episode 30:
EPISODE TWENTY NINE | WORKING ON A DREAM (JOB)
EPISODE TWENTY EIGHT | FOOTLOOSE & FREE(LANCER)
Listen to Episode 28:
EPISODE TWENTY SEVEN | REACH FOR THE STARS
EPISODE TWENTY THREE | BORN THIS WAY
EPISODE TWENTY TWO | FINGER LICKIN
EPISODE TWENTY ONE | GREY MATTER
EPISODE NINETEEN | DOWN THE RABBIT HOLE
EPISODE EIGHTEEN | HEART TO HEART
EPISODE SIXTEEN | FOR LOVE OF COUNTRY
EPISODE FIFTEEN | STARTUP SACRIFICES