Transforming traditional industries with modern tools
How Slack and other new approaches are reshaping work on farms, in hospitals, and in schools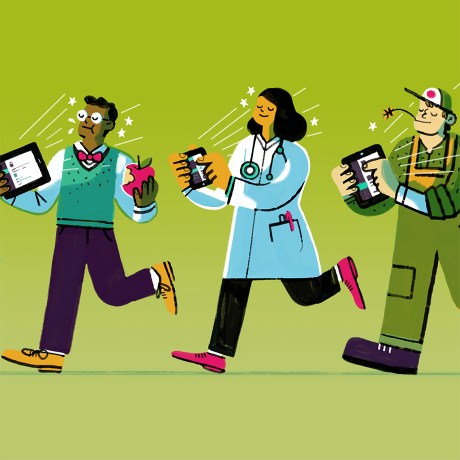 For Wickstrom and other leaders in traditional industries like healthcare and education who spoke at Slack's Frontiers conference, real progress happens when teams have better access to information across functions, allowing them to be more responsive to customers while staying closely connected to the organization's mission.
Open networks strengthen working relationships
Sarah Rothenberg, Operations and Innovations Lead at Altschool — a collaborative community of micro-schools with campuses in San Francisco and New York — notes that teachers in both locations use Slack to communicate with engineers and product designers who are designing a custom learning tablet for students.
When a teacher in the classroom has a new idea, they add it to the #magicwand channel in Slack, where it gets broadcast to the entire team so other teachers and engineers can chime in.
"The product is for educators, and now they're actively participating in how it's built and designed to help them," Rothenberg notes. "It also changes how the development team thinks about their users. With Slack, they get to be in the classroom developing the product alongside teachers and students."
Wickstrom observed how transparent communication between team members doesn't just break down barriers to information, it also helps people overcome a common human hurdle: insecurity.
"In the past when that communication was siloed, what other people were doing was kind of a mystery," says Wickstrom. "It was easy to think: They have it easier than I do or I'm working harder than everyone else.
"Taking away those barriers and having free-flowing communication helps everybody realize that everybody's working hard and doing their best to add to the team," he adds. "That has been key with our culture."
Real-time feedback = fewer redundancies and faster resolutions
The Johns Hopkins Sibley Innovation Hub gives patients electronic tablets for requesting things like extra blankets, movies, and snacks. Executive Director Nick Dawson says those requests are piped into a Slack channel that on-call staff watch over and use to coordinate speedy delivery, which often leads to higher patient satisfaction rates.
"We try to go from inspiration — which is usually based on hearing from patients or their family members around their needs — to implementation really, really quickly," says Dawson.
"We're not having redundant crossover of people showing up for multiple jobs," says Wickstrom. "We're running a lot more efficiently. And if someone needs help, it's right there in real-time."
He points out that in mature industries, communication tends to follow a fairly rigid chain of command. But to effectively implement and test these new service delivery models, he and the wider team of doctors, nurses, and hospital administrators needed to replace more hierarchical forms of communication, like email, with tools that would give people at all levels an open network where they could more easily and regularly discuss patient requests and feedback.
Similarly, at Wickstrom Dairies, Wickstrom recalls an instance where multiple farmers were receiving system-generated text messages about equipment malfunctions. Too polite to text each other in the middle of the night, several people would end up in the field to fix the issues. But since they've hooked up their external systems to a shared Slack channel, where system notifications now go, farmers are better able to coordinate resources (and spare each other some much needed sleep).
"We're not having redundant crossover of people showing up for multiple jobs," says Wickstrom. "We're running a lot more efficiently. And if someone needs help, it's right there in real-time."
Tools empower teams to solve problems at scale
Gianfredi cites an example from her time at the US Digital Service when smaller, cross-functional teams were formed and given the autonomy and tools they needed to tackle specific subsets of problems, as opposed to waiting for those issues to be prioritized and addressed in the larger system.
Panelists saw proof of this model working with their own teams — members didn't just resolve issues faster, they were more invested in their work and more determined to reach their goals.
"I look at myself and think, you know, would I want to work for a company where I had no say in how I worked? Where everything was top down?" says Wickstrom. "I think we have extremely high employee retention and low turnover rate because everybody has a vested interest in how they work. They know they don't have all the answers, but they know what goals we need to strive toward. So, in between, I trust our people and the great ideas they have to figure out that process. We do that together."
Watch these experts dive deeper into how modern tools are transforming operations and team culture in their industries, in this video from Slack's first user conference: Frontiers.